Steve Starr, Class of 1962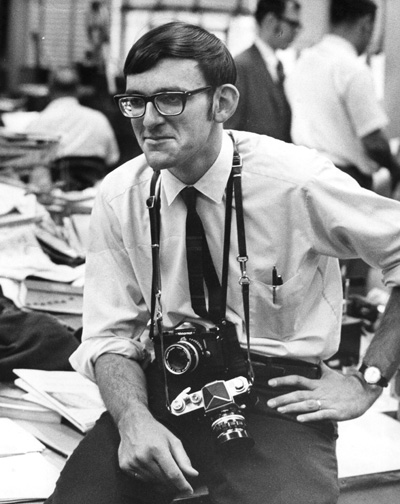 Associated Press Photographer Steve Starr received a Pulitizer Prize for Spot News Photography for his photograph of Afro-American Society (AAS) protesters leaving Willard Straight Hall at Cornell University in 1969. They were protesting Cornell's perceived racism and occupied Straight Hall on Parents Day weekend, fighting with other students. After two days, following negotiations with Cornell officials, the AAS students emerged from Straight Hall carrying rifles and wearing bandoleers of ammunition. Their image appeared in newspapers across the country and on the cover of Newsweek magazine under the headline, "Universities under the Gun."
After attending Antioch College in Ohio and Bethel College in Minnesota, Steve attended San Jose State, graduating in 1967 with a degree in journalism. In 1983, he was honored at Grossmont's graduation, where his speech explored the topic of the unpredictability and inevitability of the future.
Steve had a 40-year career as a San Jose Mercury staff photographer and Associated Press staff photographer and contributor to Newsweek. Throughout his career he strove to faithfully report the news of our time in photographs.