Community and GHS Staff Honorees
Jack Mashin - Beloved GHS Coach and P.E. Teacher 1923-1960
"The Fox of the Foothills"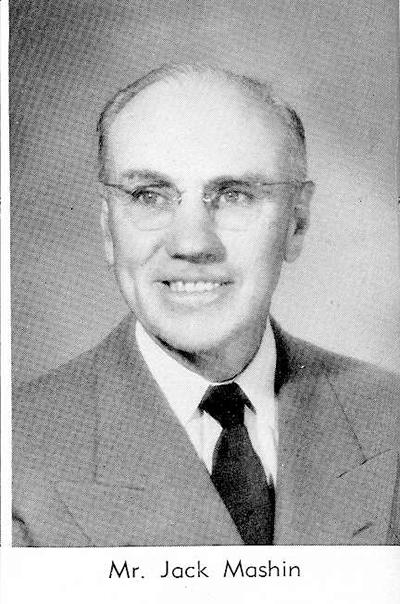 While Jack Mashin was a legendary coach, it was his philosophy of education and of life that endeared him to all who knew him.
In the 1925 El Recuerdo, Coach Mashin reveals his lifelong philosophy of coaching: "The greatest honors that athletes can bestow upon their institution are not in victories alone but in how modest they were in victory and how honorably and valiantly they fought in defeat." During his years at Grossmont, his athletes won 7 league football championships, 34 league and tournament basketball championships, 3 league baseball championships, and 86 track and field event titles. Jack was admired by all and considered the Dean of Coaches in SD County. Not surprisingly, in 1966, Coach Mashin was inducted in the California Coaches Hall of Fame.
Yet Jack valued each student's achievements: the 1954 El Recuerdo's dedication to him acknowledges that "his greatest contribution to Grossmont is his natural ability to reach the average student, fostering in each one an awareness of self-confidence and strength." He urged all students to be "second to none".
Both Jack and his wife Virginia were passionate about the value of education. Upon their deaths, they left more than $2 million dollars to philanthropic causes, most to endow college scholarships.
Colonel Ed Fletcher - Grossmont High School Benefactor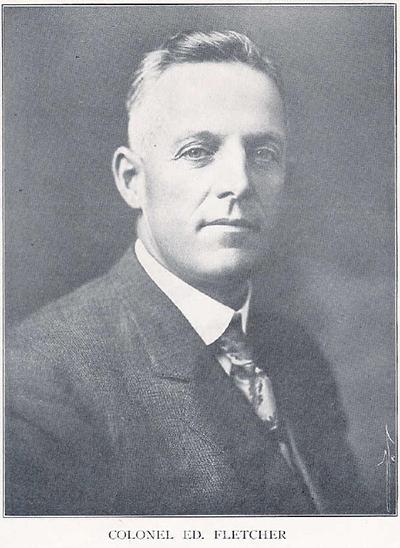 Colonel Ed Fletcher donated the land upon which Grossmont stands. Appropriately, the school's 1922 cornerstone is inscribed with these words: "The school grounds are the gift of Col Ed Fletcher.'" Also, the granite to build the new building was a gift from his nearby granite quarry. The 1923 El Recuerdo dedication to him acknowledges his generosity: "…in sincere appreciation to one whose most generous gift helped to make possible our new and beautiful school building."
In 1907 Ed Fletcher was appointed a Lieutenant Colonel in the California National Guard. Quickly proving himself a talented entrepreneur, Colonel Fletcher and his business partner William Gross developed the communities on Grossmont and Mount Helix. During his life, he was a driving force behind the road construction and water transportation in East County. In 1934, he was elected California State Senator and served until 1946. In memory of his amazing achievements, several geographic features in East County bear his name.
Merle Donahue - 1929-1962 GHS Choral Director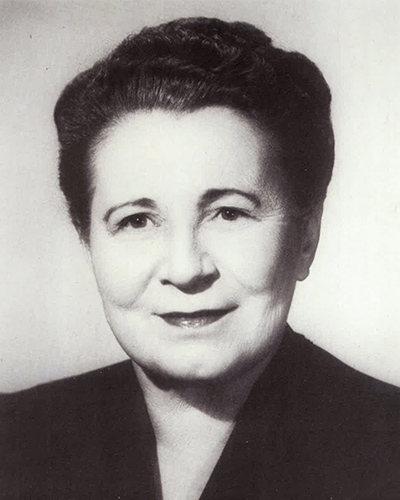 After arriving at Grossmont in 1929, Merle Donahue quickly became an integral part of the school's culture, establishing instrumental and vocal music groups and establishing traditions that continue today, such as the Red Robe Choir, the "jewel of the high school's performing arts department."
Merle and her colleagues Dorothy Smith and Eva McCarthy Quicksall were instrumental in the creation and evolution of the beloved Christmas Pageant, Grossmont's gift to the community from 1926 until 1989. Merle's dedication to the Christmas Pageant began in 1930 when she became Choral Conductor, a role she continued until 1962. The 1962 El Recuerdo acknowledges, "The one hundred and twenty members of the Red Robe Choir, in the Christmas Pageant, all responding to her artistry, make of musical experience a discovery and wonder for everyone."
The 1957 El Recuerdo dedication to Merle captures her impact on Grossmont by praising her devotion and inspiration: under her "sensitive and precise direction and under the rhythmic pulse of her fingertips, Grossmonters have cherished the fame of their musical triumphs and rewards."
At the end of Merle Donahue's career at Grossmont, her knowledge and creativeness had created a vocal department renowned for its high quality of performance. Her impact on her students is exemplified by the lifelong friendships that many had with her after her retirement.
Jim Nichols - 1959-1988 GHS Instrumental Music Director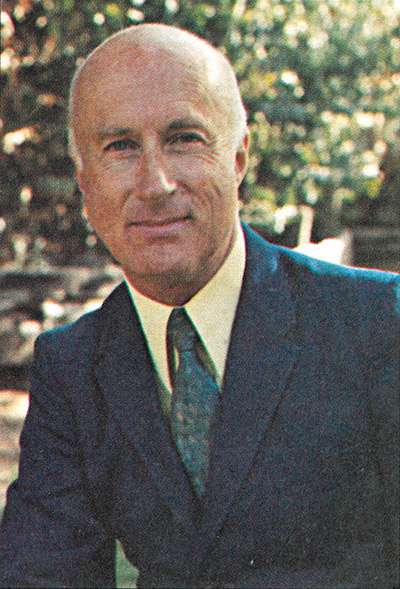 During his tenure at Grossmont High School, Jim Nichols established an incredible legacy of excellence. The California State Legislature twice commended Jim for his superior bands, a result of Jim's enthusiasm and dedication to instrumental music.
In 1967, Grossmont High's Blue and Gold Marching Band won first place out of 281 bands from 40 states in a National Holiday Contest sponsored by Disney. The National Champion band, with a total of 208 students in the band, drill team, and flag corps, performed in 1968 in two shows at the Miami Orange Bowl: the Fireworks Pageant and the NFL Playoff game at the Orange Bowl. At the All-Western Band Review at Long Beach, the largest competitive parade in the West, the band won the Mayor's Trophy in 1961.
During these years, the bands won 27 Parade and Field Show Sweepstakes, marched in the 1961 Rose Parade, the Hollywood Christmas Parade, 28 Mother Goose Parades. The bands were 11 times Corona, Chaffey, and Vista Tournament of Bands Sweepstakes winners. From 1968-1991, the GHS bands also appeared in 25 SD Charger halftime shows as well as 2 Pro-Bowls. The orchestra, concert and jazz bands received consistent superior ratings at yearly festivals.
In 1998, Jim Nichols was honored by the So. Cal. Band & Orch. Assn. with the Lifetime Gold Award and was the San Diego Youth Symphony's, as well as San Diego County's, Music Educator of the Year for his lifetime commitment to instrumental music.
Ethel Prosser - GHS Pioneer Educator 1920-1952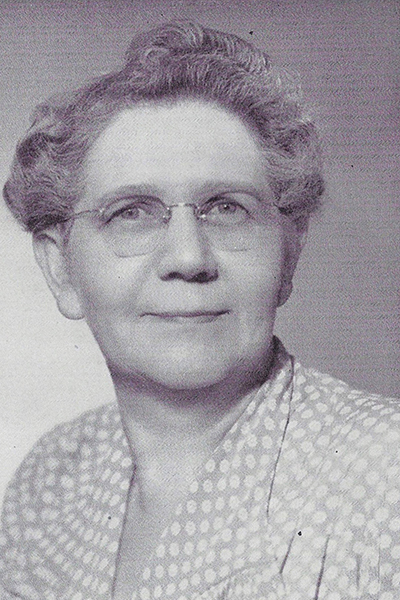 Every new endeavor has its pioneers, and Ethel I. Prosser is an essential part of the first 32 years of Grossmont High School.
After attending Pomona College and UC Berkeley, Miss Prosser began at GHS in 1920 as an original faculty member, teaching English and history. She established the El Recuerdo, GHS's yearbook that first year and served as its advisor through 1927.
In 1926, she helped to establish Circle G, Grossmont's honor society for high achieving and involved students. In 1922, Ethel Prosser was a driving force in the creation of the GHS Alumni Association. The indefatigable Miss Prosser also served as a class advisor from the 1920's through 1951, English Department Chairman, and even directed drama productions in the 1920's.
In 1925, Miss Prosser was named Dean of Girls, a position she held until the late 1940's. She also created and served as advisor to Girls League, a service club, from 1926-1948 and Senior Board advisor from 1938-1941.
All of Ethel's accomplishments, however, do not convey the true respect and affection the students and teachers felt for her. As the 1925 El Recuerdo states, "No matter what time or occasion, Miss Prosser, Dean of Girls, is always ready to listen with interest and patience to our many problems, and with a kind smile and encouraging words, gives us just the right advice."
Her spirit of loyalty, cooperation, enthusiasm, and kindness pervade the school today. Grossmont would not be what it is today without her.
Carl Quicksall - GHS Pioneer Educator 1920-1944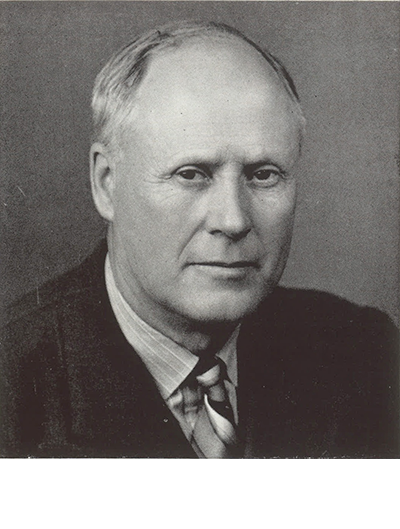 One of the original faculty members of Grossmont High School, Carl Quicksall saw it evolve during his years at Grossmont into a school that students and the community could be proud of.
Born in Kentucky, Carl attended Ohio State and later earned a master's degree at the University of Oklahoma. He served in WWI in the artillery and left the military in 1920 with the rank of major. In September 1920, he taught math and science in the new school-Grossmont. His calm leadership and kind and wise demeanor inevitably led to his being named the second principal of GHS in the 1924-25 school year.
During his 20 years as principal, from 1924-1944, Carl oversaw or created Boys Federation, Circle G, and the California Scholastic Federation chapter. He also served as a freshman or senior advisor to numerous classes over those years. From 1935-1937, as principal, he oversaw the WPA funded dramatic expansion of the campus with the construction of the Manual Arts Building, the two-story classroom wing of the "Castle", and the Auditorium-Gymnasium (the Old Gym).
After retiring in 1944, Carl Quicksall was elected to the San Diego County Board of Supervisors, serving two terms in office. In his later years, Carl owned an avocado and citrus ranch in La Mesa.
In the 1941 El Recuerdo, Carl is described best: "GHS's capable principal…always administrating…forming school policies…advising teachers and students alike…the kind of man to whom graduates return for help and advice."
Eva McCarthy Quicksall - GHS Pioneer Educator, 1922-1962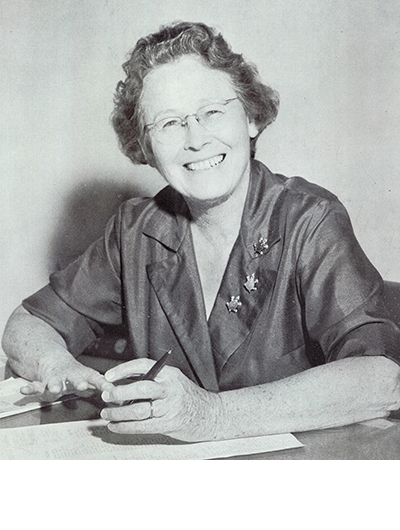 One of the most revered and beloved teachers in Grossmont High School's history, Eva McCarthy Quicksall was born in Ventura and received degrees from Pomona College and Berkeley. She joined the staff at Grossmont in its second year, teaching English and Public Speaking. Very quickly, Eva evolved into a dynamic presence, becoming the drama coach and directing an amazing 5 plays a year.
In addition, starting in 1924, Eva oversaw a Christmas program, which by 1930 had transformed itself into Grossmont's celebrated and beloved Christmas Pageant, Grossmont's annual "Gift to the Community". Eva created and directed all the scenes of the Christmas Pageant until 1939. A much loved presence at the performances, Eva saw every Christmas Pageant from 1926-1987.
Eva, while teaching full-time, acted as a class advisor, and Girls League and Boys Federation advisor. Eva was also involved in the creation of Circle G in 1926. In the early 1940's, she married Carl Quicksall, principal of GHS. In the 1950's Eva was a counselor until her retirement in 1962 after 40 years of service to Grossmont.
Eva's unbounded energy, devotion, and love for Grossmont, its traditions and its students, make her a name never to be forgotten. As the1962 El Recuerdo states , "Thank you, Mrs. Quicksall, for all you have done for Grossmont. Thank you, because you have given of yourself for our benefit."
Gloria L. Jones - History Teacher 1962-2000, ASB Advisor 1967-2000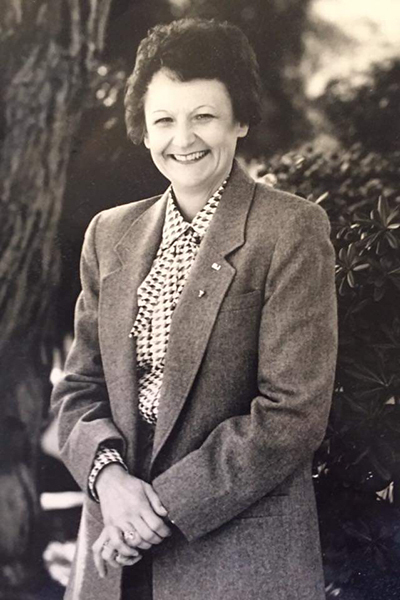 Ms. Jones was a caring and gifted teacher and A.S.B. and student government advisor at Grossmont High School. Her passion was U.S. History, and she instilled in her students a love of country, along with the importance of participating in the democratic process.
Strong, determined, and compassionate, Ms. Jones had the ability to get the best from her students, in both student government and the classroom. She showed them "where to look, not what to see", and they loved her for her firm, but caring guidance.
As an ASB Advisor, Ms. Jones solidified Foothiller traditions and school spirit through yearly campus wide activities: Blue and Gold Fridays; classroom competitions; spectacular decoration of the Old Gym in each year's Homecoming theme; fairs to encourage club participation; amazing Nominating Conventions, and dramatic assemblies such as the unforgettable Traditions Assemblies.
Ms. Jones promoted the highest levels of academic excellence and brought Advanced Placement (AP) classes to Grossmont. For twenty years, she was a leader in AP national exam grading. As a Grossmont District Teachers' G.E.A. union leader, Gloria led the fight for improved working conditions.
Her smile, laugh, aviator sunglasses, retro hairdo, and determined expression and walk are an unforgettable part of our shared school history. Upon hearing of her death, nearly twenty years after retiring, hundreds of former students shared an outpouring of memories of their beloved teacher, a testament to her continuing impact on her students even today and a testament of a life well lived.