Grossmont High School Museum - Honoring the Past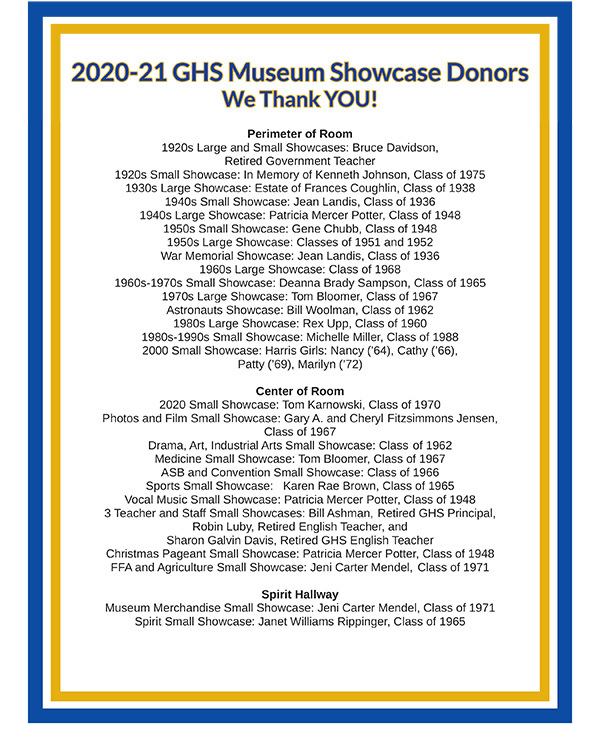 In June 2007, Lynn and I began a journey into the history of GHS. 14 years later, we have "settled into" the 1950 Girls PE Rec Room and Hallway. We could not have made this move without the help of wonderful friends and family as well as the help of the district maintenance department, especially carpenter Tony Patton.
We thank so many people for their financial support; here are those who funded the new showcases in the museum. (We also have used all of our "old" showcases, 5 large and 4 small. 2 of the large showcases are from the 1950s. Thanks to the district electrician, Greg Kielinen, we have lights in all of the large showcases.)
We hope you visit us soon and share in our enthusiasm for the great love that students, staff, and community have for Grossmont High School.
These 5 Photos show the evolution of the GHS Museum.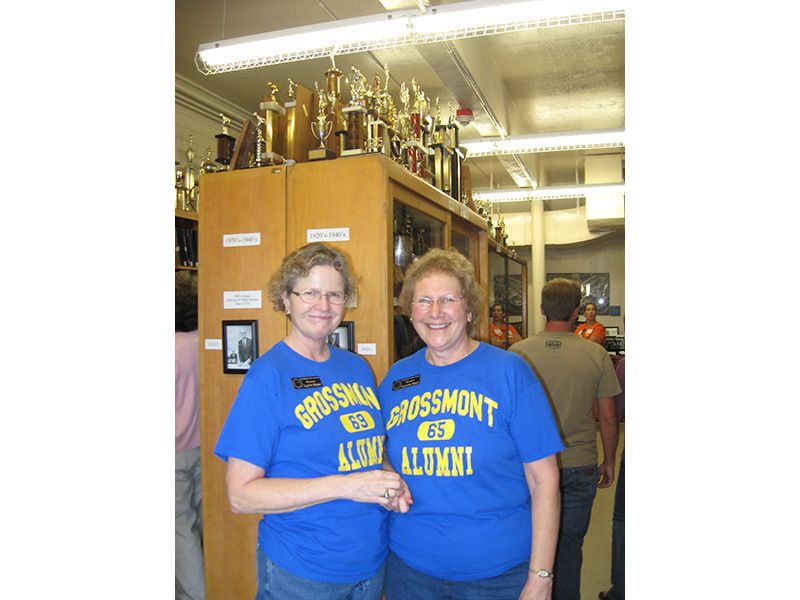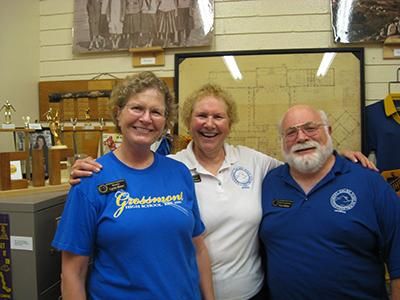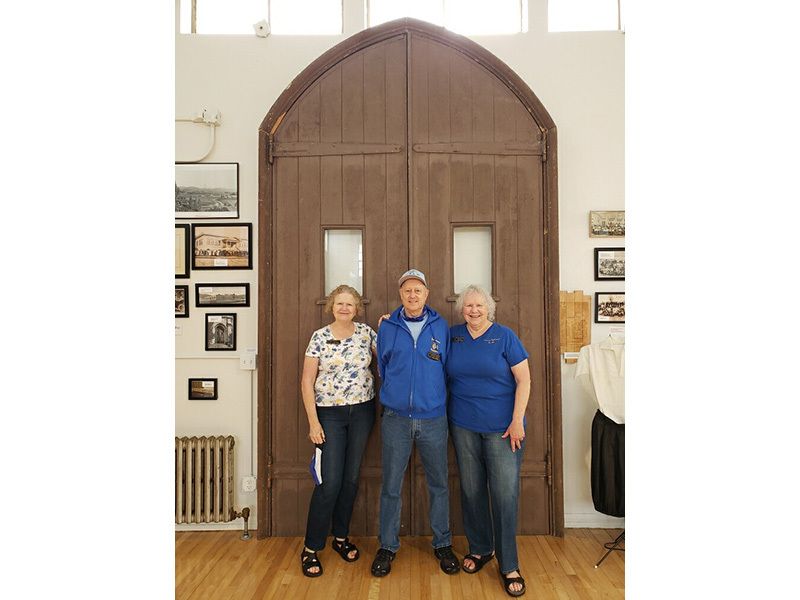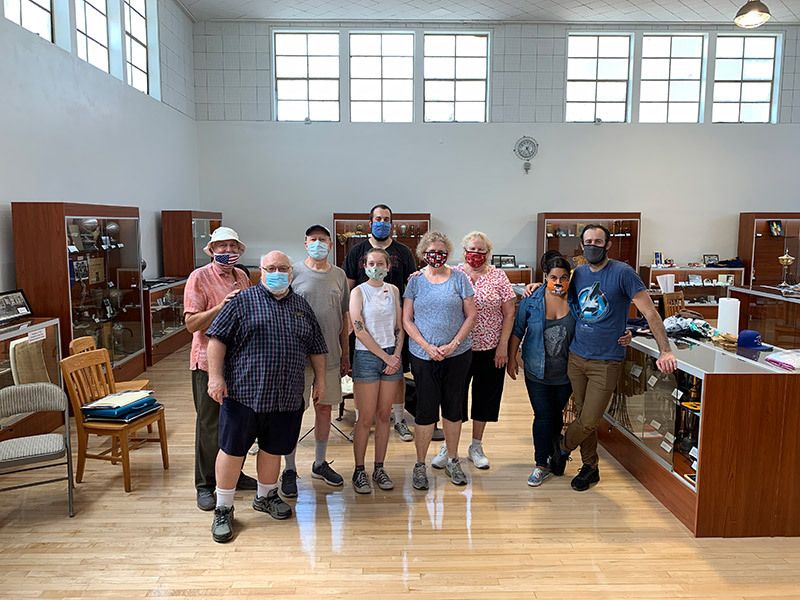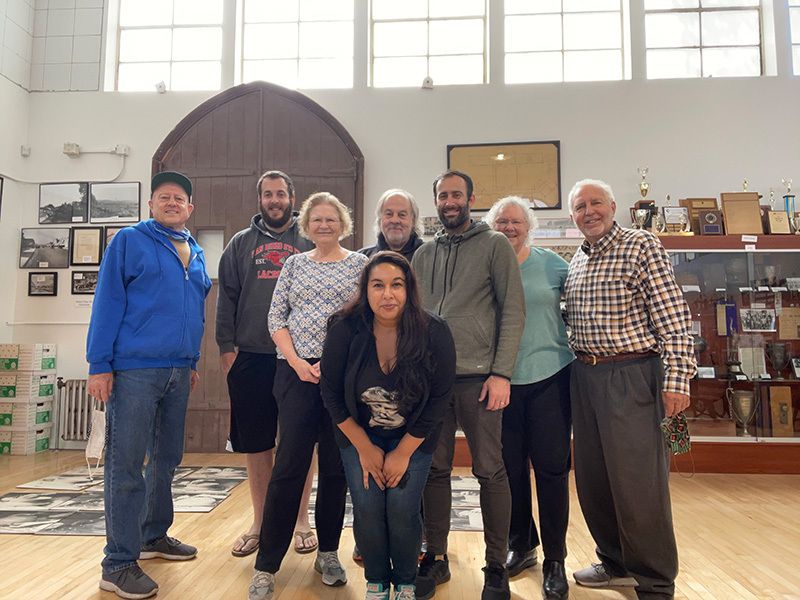 Thank You for Your Support
The Museum operates solely on donations, which are used to create the Museum displays, to preserve our memorabilia, and to celebrate Grossmont's history. 
To make a tax-deductible financial donation, please use the DONATE button on the right. If you would like to sponsor a certain project, please email us at This email address is being protected from spambots. You need JavaScript enabled to view it.. You may also write a check, payable to the GHS Educational Foundation, and mail it to Connie and Lynn Baer, 5999 Avenorra Dr., La Mesa, CA 91942. In the check memo, please specify your sponsorship of a certain project or specify Museum General Fund.
Museum Contact Info
MUSEUM HOURS

The GHS Museum is closed until Fall 2023.
We are available to answer your questions about Foothiller history.
Feel free to contact us by This email address is being protected from spambots. You need JavaScript enabled to view it. or call 619-668-6148.
---
Museum Directors
Connie and Lynn Baer
This email address is being protected from spambots. You need JavaScript enabled to view it.
(619)-668-6148
Alum/Museum Facebook
Foothiller Foundation
Support The Museum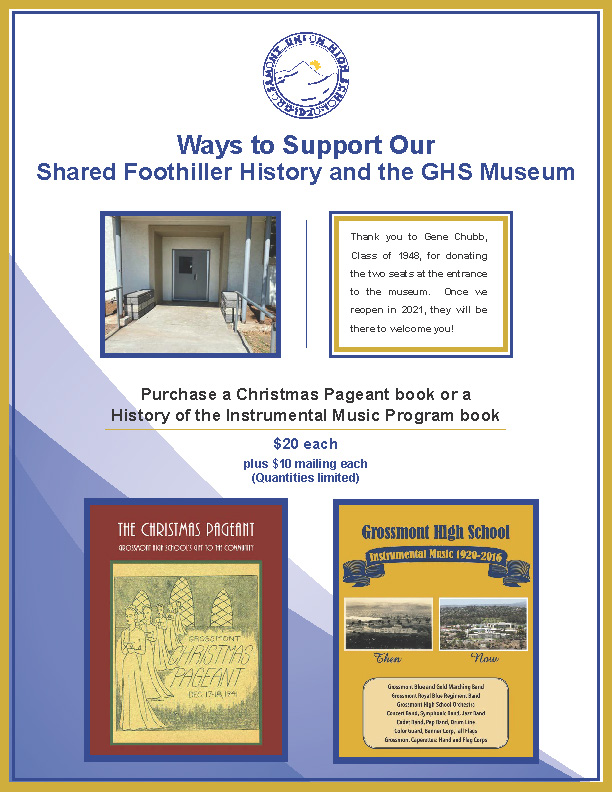 ---
You can make a tax deductible donation to the GHS Museum via the PayPal link below!
Click Map for Larger Image
December 2022 | GHS Museum Newsletter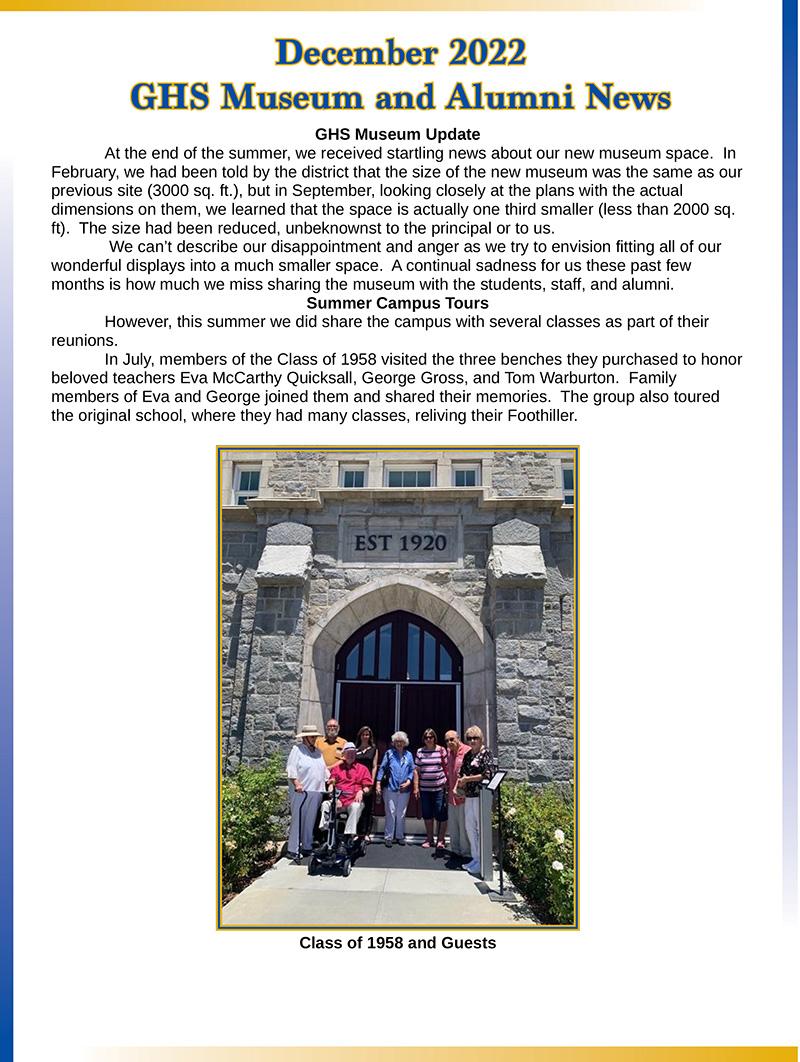 GHS Museum Update
At the end of the summer, we received startling news about our new museum space. In February, we had been told by the district that the size of the new museum was the same as our previous site (3000 sq. ft.), but in September, looking closely at the plans with the actual dimensions on them, we learned that the space is actually one third smaller (less than 2000 sq. ft). The size had been reduced, unbeknownst to the principal or to us.
We can't describe our disappointment and anger as we try to envision fitting all of our wonderful displays into a much smaller space. A continual sadness for us these past few months is how much we miss sharing the museum with the students, staff, and alumni.
Summer Campus Tours
However, this summer we did share the campus with several classes as part of their reunions. In July, members of the Class of 1958 visited the three benches they purchased to honor beloved teachers Eva McCarthy Quicksall, George Gross, and Tom Warburton. Family members of Eva and George joined them and shared their memories. The group also toured the original school, where they had many classes, reliving their Foothiller.
---
2020-21 Showcase Donors
Perimeter of Room
1920s Large and Small Showcases: Bruce Davidson, Retired Government Teacher
1920s Small Showcase: In Memory of Kenneth Johnson, Class of 1975
2020-22 Campus Bench Donors
Family Benches
Two Baer/Vellone Family Benches: Bill Woolman
The Bibb Family Bench
The Hawkesworth Family Bench
The McWay Family Bench
CONNIE BAER NAMED GOLD STAR VOLUNTEER
---
THE NEW GHS MUSEUM