1940's Hall of Honor
Dr. Robert H. Kokernot - Class of 1940
Dr. Kokernot was an assistant director, Center for Zoonosis Research at the University of Illinois. He received three doctorates, one in veterinary medicine from Texas A&M, one in medicine from Baylor University College of Medicine, and one in epidemiology from John's Hopkins University.
He served as a staff member for the Rockefeller Foundation and was assigned to South Africa and to Colombia. Dr. Kokernot worked in South Africa for six years and was on the medical faculty of the Universidad del Valle, Cali, Colombia, from 1961-1963. Upon his return to the United States in 1963, Dr. Kokernot worked on research at the University of Illinois.
Dr. Dan Lewis - Class of 1942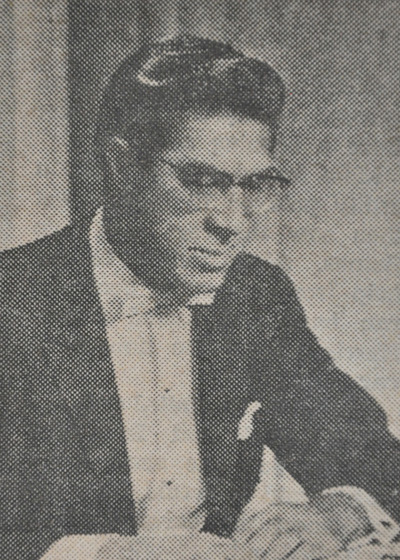 After graduating from GHS, Dan attended San Diego State University, until he was called to military service. After the war, he graduated from San Diego State with distinction and honor, attended Claremont Graduate School where he earned his Masters Degree, and began teaching at Grossmont in 1950, moving to Helix when it opened. In 1958-1959, he worked with the orchestras at El Cajon, Helix, and Grossmont, adding Granite Hills in 1960-61, later leaving to teach at Grossmont Junior College.
In 1963, when he accepted a position to teach at California State College in Fullerton, former superintendent Lew Smith commented that "the high quality of musicianship combined with dedication to the students in his program and his sterling personal qualities forecast a bright future for him…).
Trained as a violinist, Dan helped to organize the San Diego Symphony after WW II and was their concertmaster for many years; in 1953 Robert Shaw appointed him assistant conductor of the San Diego Symphony, where he remained until 1959. He also played with the Starlight Opera Orchestra for many years. In 1959, he won the Fulbright Scholarship to study music in Munich, Germany. From 1959-1960, he studied at the University for Music in Munich.
From 1976-1995, Dr. Lewis headed the orchestra at the USC Thornton School of Music, becoming its first faculty member to receive the title of University Professor. During his career, Dr. Lewis worked with numerous orchestras, including the Pasadena Symphony, the Los Angeles Philharmonic and Glendale Symphonies.
Clark Allen - Class of 1942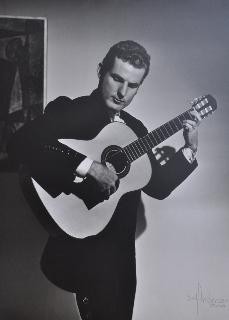 Clark was a Renaissance man. During his amazingly artistic life, he was a musician, a musicologist, artist, sculptor, model-maker, nautical historian, actor, linguist, and world traveler.
He and his wife, dancer Margarita Cordova, after traveling through Spain and France for more than a year, created an act featuring the dances and songs they collected. In 1961, they founded El Cid, the renowned flamenco club in Los Angeles, where they entertained for more than 18 years. Also, Clark was also a talented artist; his paintings were collected by many including Vincent Price. In the 1960's Clark toured with Carl Sandburg and Bette Davis in "The World of Carl Sandburg", and appeared with Marlon Brando in "One Eyed Jacks", and in several TV episodes of "The Twilight Zone" and "Peter Gunn".
Clark Allen's 1942 drawing of the original GHS granite Castle has become a symbol of Grosssmont High's early history, appearing on our commemorative bronze plaques.
Franklin "Bud" Held - Class of 1946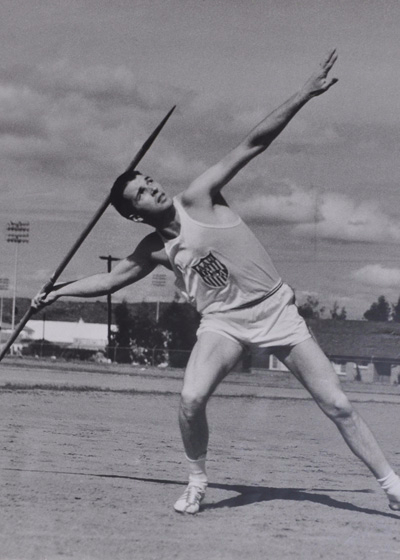 Even in his early years at Grossmont High School, Bud Held excelled in sports, competing in track and field, baseball, and tennis. In college, he became a superb javelin thrower, earning NCAA titles in 1948, 1949, and 1950. Held was the first American to hold the world javelin record in 1953 and bested his own record in 1955. Bud held 6 AAU national titles and 6 American records in the javelin and competed in the 1952 Olympics.
After careers as a minister and later a businessman, Held continued to excel athletically. In 2008, he competed in the USA Masters Outdoor Track and Field Championship, where he became the world record holder in the pole vault for ages 80-84.
Bill Davis - Class of 1948/Honor Graduate, 1987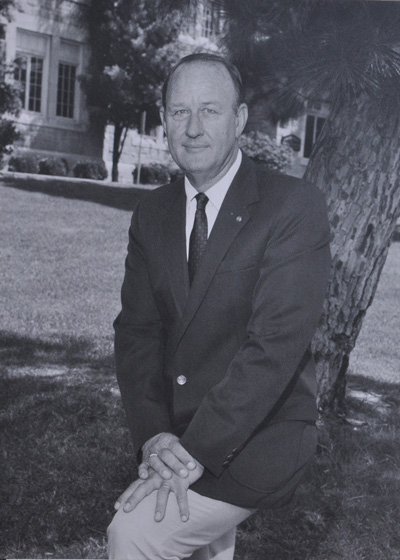 Bill Davis loved Grossmont High School. It was a love first instilled in him in 1944-48 during his four years as a student and athlete at Grossmont High School, then in 1966-1970 by his four years as a Assistant Principal, and finalized by more than ten years as a Principal from 1976-1988.
Upon his departure as GHS Principal, Bill said despite the changing problems the school faces, "the things Grossmont stands for are built on a foundation and record of excellence." After leaving Grossmont, Bill became a GUHS District Director working to develop programs to identify and encourage high-risk students to graduate.
But his love of all things Grossmont didn't end with his retirement. Bill became Grossmont's oral historian, reminding us of the wonders of our past. In this role, Bill continued to be an advocate for the values and traditions that have distinguished Grossmont High School.
Outside of education, Bill continued to serve others. In 1988 after 37 years in the military, Bill retired as a Colonel: he had served 4 years in the Naval Reserve, 2 years of Active Duty in the Air Force, and 31 years as a member of the Air Reserves. In addition, Bill was active in East County community service organizations: he was a member and Past Distinguished President of the La Mesa Kiwanis, as well as being a member of the Elks Lodge of El Cajon, the El Cajon Masonic Lodge #575, the SDSU Aztec Club, and a Life Loyal Sigma Chi member.
Grossmont High School Principal from 1976-1986, GHS Vice Principal from 1966-1970, El Capitan HS Principal 1970-1975, and Grossmont HS alumnus, Class of 1948
Gene Chubb - Class of 1948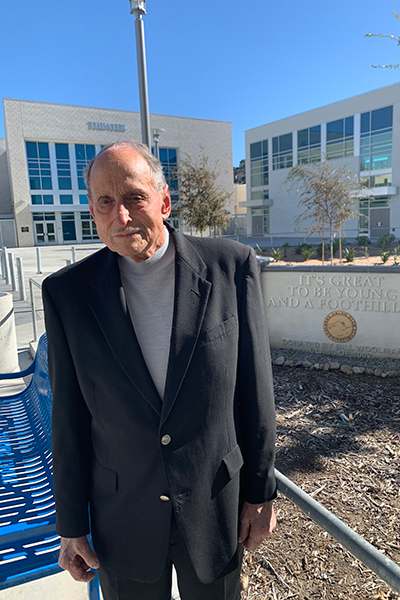 Gene Chubb, RCP Senior VP, is a proud and generous alumnus who has demonstrated his love of Grossmont High School through campus improvements.
In 1947-48, the Hi-Y Club, of which Gene was a member, built the Big G on the Hill in front of the original school, made of shrubs and blooming in colors of blue and gold. Eventually, the shrubs showed their age; in 1993, thanks to the GHS band fundraising and Gene and RCP's generous support, crews of parents and band members created the current Big G from 770 gold painted bricks and gravel.
Then in 2015, the G was repaired and painted, the frame of the G redone in stone to match the 1922 granite of the original school, and the gravel replenished with materials again supplied by RCP.
Simultaneously, Gene was working on another project at the entrance to Grossmont: modernizing the Class of 1989 monument with Gene donating the concrete blocks and the masonry. Gene also facilitated the creation of a paver pathway on the north side of the Math Building through his donation of the needed pavers, gravel, and sand.
Next in 2016, Gene provided the materials and the masonry to create the face and the pillars of the front monument beside the new GHS Office, another iconic testament to Foothiller history. In 2020, Gene created two concrete block seats at the entrance to the GHS Museum; they echo the other monuments on campus as well as the granite of the original school.
Over the past 72 years, Gene Chubb has epitomized Foothiller pride through his generous efforts to modernize the campus while preserving its amazing history.
Fredric Martin Donohue - Class of 1949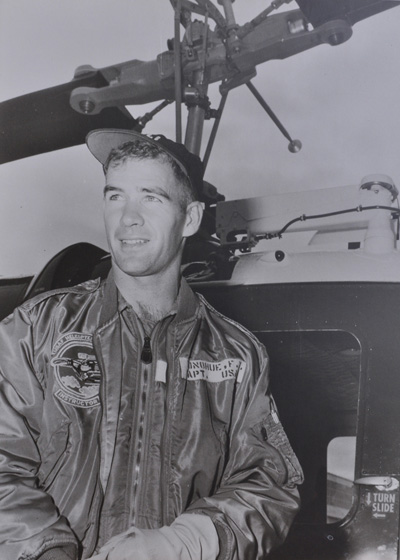 Martin Donohue received his commission in 1954 through the Air Force ROTC program at San Diego State College and began active duty August 1954. Marty was awarded his pilot wings in 1959 and completed Helicopter Pilot Training the same year. In 1967-68, he served his first tour of duty in Vietnam with the 37th Aerospace Rescue and Recovery Squadron.
Two years later in November 1970, five Air Force Crosses were awarded in the attempted rescue of American Prisoners of War from Son Tay prison in North Vietnam. Major Donohue "Apple 3" was one of the three HH-53 pilots awarded the Air Force Cross. His Air Force Cross Citation was awarded for "extraordinary heroism …when Major Donohue courageously flew the first aircraft directly over the compound at an altitude of forty feet….He fired upon the greatest threats to the ground rescue party,…neutralizing guard towers….Major Donohue, without regard to his personal safety, immeasurably contributed to the complete confusion and disorganization of enemy forces….Through his extraordinary heroism, superb airmanship and aggressiveness in the face of the enemy…."
Colonel Donohue then served at the Pentagon and MacDill Air Force before retiring from the U.S. Air Force on August 31, 1984.
Ben Cloud - Class of 1949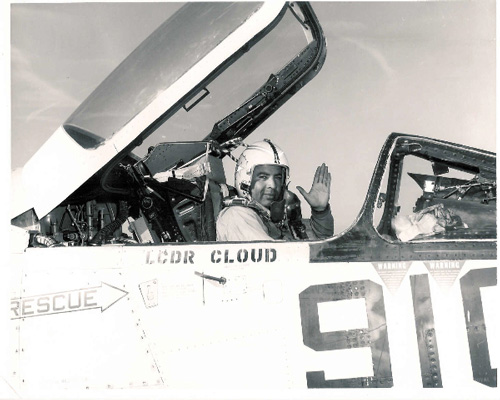 During the Vietnam conflict in the spring of 1964, in a two week period, Ben Cloud flew 12 missions over North Vietnam to gather reconnaissance information of North Vietnam's military activity and received hostile fire every time. Before the Vietnam War, Ben flew with the Blue Angels. When the war began, the Blue Angels were dismantled, and in 1964, when he was sent to Vietnam, he flew the first combat mission in the Vietnam War.
Later in his career, Ben worked in the White House as an aide in the Office of Protocol, planning diplomatic events to three Presidents: Eisenhower, Kennedy, and Johnson. Ben became one of the first African Americans to command a squadron and in 1972 served as the Executive Officer of the carrier Kitty Hawk, which launched some of the final strikes of the Vietnam War. In 1972, Commander Cloud was instrumental in defusing the worst race riot in modern navy history.
Also, during his career, Ben was Commander of the Fighter Squadron at Miramar Air Force Station. He served as Captain of the Navy for 32 years from 1952-1984. He retired after an amazing career distinguished by his commitment to the service of his country and by his personal courage. Obituary