A Look Back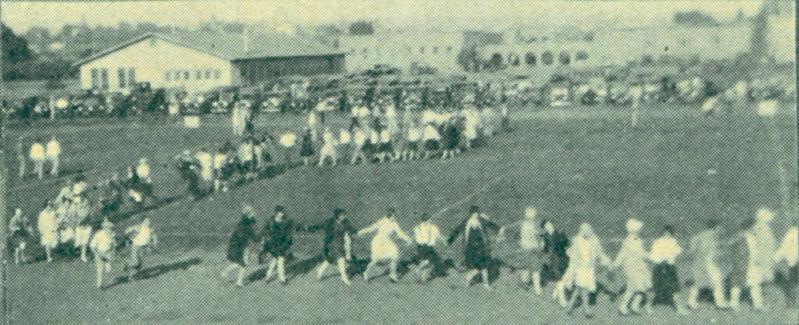 This is a wonderful photo from the past, which Lynn found in the 1928 El Recuerdo. It was in a collage of photos and originally quite small. The photo shows students making a G (we think) on the football field. In the background is the original school with an amazing view of the cloistered corridor arches that framed the back wing until the WPA construction of the two-story classroom building.
Thank you for your continued support of our efforts to celebrate and display Grossmont's wonderful history!
History of GHS
Have you ever looked east from the campus to appreciate the snow on the Cuyamaca Mountains, so beautiful and seemingly so close? Ever looked up from the campus to spot the cross on Mount Helix? Ever noticed how dramatic Cowles Mountain seems, when viewed from the football field during afternoon practice? Ever realized how good the breeze feels in the afternoon as it finally makes its way up through Mission Valley, past the La Mesa foothills to the Grossmont Summit? Have you ever walked home from school picking fruit to eat off the bountiful trees in the area? If you have, so have many other Grossmont High students past and present.
We all share much the same experience the founders of this area enjoyed when they decided to make this rich soil--this spot of incredible panoramas and wonderful climate—a community. It was in this exuberant spirit in 1920 that Colonel Edward Fletcher, one of the fathers of East San Diego County development, donated 14 acres of land for a school that would ultimately impact the lives of many citizens of the Grossmont-Mount Helix, La Mesa, El Cajon, Bostonia, Fletcher Hills, Santee, Lakeside, Spring Valley, Lemon Grove, Alpine, Barrett and other areas. Through this school's doors, men and women have lived, shaped and made history, developing memories that far outweigh the fleeting span of four years spent as a student.
When Col. Fletcher and William Gross traveled west, eventually buying and naming this remote old rancho and mountainside in 1902, they were consumed with possibilities and a sense that they were making history. This area, renowned for its lemons, springs, and lily pond (behind Anthony's restaurant), was to be a beautiful colony of summer refuge for the artistic, wealthy, and famous. Like these two men, we embark on our own historic journey, yet ours is one of memory—one that is nearly impossible to fully encompass.
How could the depth and breadth of boundless time, energy, talent, and devotion be chronicled in the pages of a brief introduction? We each may not remember everything or everyone, but all the individuals of our history have left impressions and institutions behind to appreciate and fondly remember—their friendship, love, influence, and spirit are forever in the granite of Grossmont High School. It is a uniquely human attribute that allows us to remember the good times before we do the sad, but we shall remember all of them with grateful fondness.
Webegin our journey by first climbing the slight northern slope of Eucalyptus Pass (the Grossmont Summit area), named for the fast-growing trees planted there for beauty and utility and supplied by Grossmont resident and famous horticulturalist Kate Sessions. Those railroad tracks we cross once brought visitors from San Diego out on day trips to see the splendor of the picturesque eastern county, with vistas highlighted by San Diego City, the Coronado Islands, and the summer home of world-famous contralto and friend of Great War veterans Madame Ernestine Schumann-Heink. (The base of Mdm. Schumann-Heink's red-roofed house, the first to be built in the area by Fletcher, is made from the same granite as our old school and is easily viewed from many locations on the campus.)
If you look over there to the east, you'll see the letter 'G' on the hillside. Having a 'G' on local hillsides has long been customary at Grossmont. The letter was originally located on a hill just beyond what is now Harry Griffen Park, before housing developments forced students to find an alternative location, Cowles Mountain (properly pronounced "coles," after the man who once owned the land). This second location was abandoned in the early 1970s, as a growing environmental movement, hostile to whitewashing the landscape, prompted the tradition's conclusion. The 'G' was once maintained yearly by the Grossmont HI-Y club, a YMCA-sponsored group committed to "create, maintain, and extend throughout school and the community high standards of Christian leadership." The 'G' tradition is continued today by the District, which maintains the current symbol in front of the main office, despite continued attacks by late-night marauding members of rival schools bent on defacement.
As the top of the hill is reached, we stand before the old grey stone castle that housed the original school, finally opening in time for the 1922-23 year, after the passage of a bond measure and a long battle over where the school should be located. One year earlier, in anxious anticipation of the new bond construction, Grossmont students first attended an overcrowded building in Lakeside. Growing out of the Progressive Era's reform spirit, there were great expectations nation-wide for construction of more high schools to house the education of a country growing faster than ever in its history and providing an opportunity suitable to future state college students. Grossmont owes its heritage as much to this fact as any.
Today, the old castle on the hill houses the administration for a whole district of a dozen high schools, when once it was one of the first true public senior high schools in the county, behind San Diego's own stone-and-fig-covered castle, Russ High. Grossmont's granite façade came from Fletcher's own quarry; the ivy originated from author Washington Irving's New York estate. The first slips were planted in 1923 by the Busch boys, Grossmont students, in what was once the fountain garden, behind what is now the west end of the District building. The ivy soon began its inevitable "creep" over the entire building, providing numerous Daisy Chains with their ceremonial prop and the East County with a decorative landmark, surpassed in recognition only by the Helix cross.
How many students have hiked up this knoll from 1922 to the modern day? Although John D. Spreckels had built a train station for the San Diego & Cuyamaca Railway Company that was near the school, somewhat reliable buses would, early on, need to provide more regular transportation for students on their way to school--some from as far away as Alpine. Of course, as with any rural community of the day, many students rode to school on horseback or walked. As a student in the late 1940s, La Mesa's Richard Plum liked to ride his horse to Grossmont, tying it right out front there. In 1960, legendary Principal "Mr. Grossmont," Walter Barnett, hired Plum to regain some of the glory that the 1930s and 1940s Grossmont speech and debate teams had garnered. Plum succeeding in 1967 with a state championship and a third place finish in the nation. Many remember Mr. Plum as vice principal in the '70s and '80s. He also hosted many "get-involved" orientation speeches to incoming freshmen in the Old Gym.
That flag pole out front was once the sight of great contests over the honor to fly the class colors: grey and gold for freshmen, old rose and silver for sophomores, and green and white for juniors. In one of the most truly unique Grossmont traditions—and there have been many—
the pole was greased as representatives from each class tried to make it to the top. Grossmont's senior class changed its colors in the second graduating year from royal blue and white to royal blue and gold, which, of course, led to today's more well-known, traditional school colors.
Through these large, beautifully crafted medieval front doors we enter, as so many have, the main hallway. This original school building housed classrooms until most of it was taken over by the District's needs and a growing East County, swelling with post-World War II growth and the addition of six high schools to the area between 1951 and 1961. (Many students over the years heard that the building was off-limits to classes for safety reasons.) Grossmont High could not keep up with growth, although she always did her best, including the implementation of double sessions to accommodate a student body numbering 3000 by 1955. As each new school was added to the District, Grossmont mourned the loss of students, faculty, and administrators, sacrificing much in academic reputation, athletic prestige, and quality professionals for the good of the County and District.
Were it September 1922, we would immediately notice the smell of paint and lacquer, as well as hear the sound of workers finishing construction on "final touches" and the Auditorium portion of the new school building. Despite these distractions, we would be in one of the most modern buildings of our era, costing $135,000 and complete with steam boilers, when many schools still burned open wood or coal fires.
Down the hall to our right, we would find a large English classroom, now the Purchasing Department. Brushing past in 1960 is Senior Helen Schumann taking a student assistant class, working for both the District Service and IBM departments (using the District's first punch-card computers). Helen would be hired permanently and spend nearly the next three decades in the District, on the way to becoming Head Buyer for Purchasing and the head of CSEA. (You may remember her as the last woman in the building to wear white gloves to work.)
Continuing on, walking straight through past the receptionist, and through what was once a wall behind the receptionist (also, until the late 1980s, the switchboard operator), we could almost hear the echoes of nearly a century of students and adults resonating off the wood of what was once an auditorium and theater. Were we able to listen back, voices would carry lectures on Mr. Isaac's capture of Germans in the Great War, Mrs. Maude Fagin's travels in Egypt, senior and junior plays, musicals, dances, sounds of the freshman class being initiated by sophomores, and many other social activities. The construction of a much larger auditorium—the Old Gym in 1936-37—made the original facility redundant, opening the way for more classroom space. Today, remodeling of the District building has created two stories of District office space.
Eventually, the building replacing the Auditorium would house numerous classrooms and the English Department. Here too, in this hall, voices of teachers named M. Miller, MacLoad, Quicksall, D. Smith, Vinson, Goss, Lea, Barton, Gordinier, Fenn/Patterson, D. Miller, Baer, Adams, Galvin, Geba, Anderson, Gray, Luby, Auten, Schultz, Bogue, Dawson and many others, echo forever in the halls of memory.
We now exit, out to the rear of what was the original school. The two-story building before us, built on the rim of the canyon, replaced a 1928-29 building housing a cafeteria, where Rose 'Mom' Barnett served nourishing meals to an appreciative student body for many years. In tribute to the service longevity of both Ms. Barnett and the Cafeteria, when the building finally received the wrecker's ball, excited students, having painted portions of its edifice with Hilltop High colors, hoping to see their next opponent triumphantly and symbolically smashed, were disappointed when the first few strikes bounced off the venerable granite structure.
Ultimately, this modern building, constructed in 1960, replaced the old Cafeteria and still serves as the Library and Technology Building. It has provided classrooms for just about every curriculum taught at Grossmont. (Remember having Mrs. Fran Lea's unique class? Frank Foggiano will never forget her way of passing out papers by throwing them into the air.) You might recall a portion of the Library being dedicated and memorialized to 1960 class president Thomas P. Adams. (Once, many of our library books were donated by the Adams family and bore an identifying stamp.) This building should also be dedicated to the tireless work of many Grossmont librarians, including Ms. Tisdale and Ms. Kelly, who worked in the old Library located in a stone wing of the "Old Main"; legendary Lewis Kohrs; and '67 graduate Linda Pierce.
That old wooden building that used to sit on the South side of the canyon, in the lower quad, looking as if it was going to fall into that same canyon, was built in the 1930s to be temporary. It was still used in the early 2010s, more than half a century after its construction, as a District technology repair office and temporary home of the Associated Student Body.
As we make our way west, through the upper quadrangle, we immediately recognize this location's most dominant feature, the Old Gym. The Great Depression of the 1930s may have nearly destroyed this country, but it certainly was good to the facility of Grossmont High. President Roosevelt's New Deal jobs programs built much in San Diego: parts of the Zoo, the Del Mar racetrack, San Diego State College; the County Administration Building; and, most importantly, much of our campus.
Affirming Roosevelt's celebrated legacy, the Old Gym has a utility rivaling any building in the county. Built by the New Deal's Works Progress Administration during the Great Depression years 1936-37, our Gym has literally seen millions of individuals from the school and community pass through its doors to watch and participate in plays and musicals, the community's Christmas Pageant, sporting events, assemblies, committee and district meetings, conventions, speeches, and practices and rehearsals of every conceivable kind. The Gym was even noticed in the April 13, 1959, issue of Life Magazine, highlighting the school's nominating convention (organized by Principal John Warburton). Now, the building only hints at its 1930s Art Deco origins, due to a millennial refurbishment that removed all the windows and added stucco to the style's tell-tale columns and rounded edges.
Along with a gym, between 1935 and 1937, WPA project number 653 planted palm trees and grass; remodeled the old Auditorium with classrooms; poured concrete for tennis courts; constructed a mechanical arts building that housed wood, metal, and auto shops (the shop building now houses the Boys' Locker Room, the Weight Room, and other facilities); realigned and seeded the football field parallel with old Murray Drive; lined the bank on the home-side of the same field with stone and cement; built the "temporary" wooden building on the canyon; added a cement and rock terrace to the canyon (now gone); and built a bridge over the railroad tracks in front of the school (since replaced by the current bridge).
The WPA's architect at Grossmont was Frank L. Hope, who went on to design many well-known buildings in San Diego, including the Cabrillo Monument in 1966 and San Diego Stadium in 1967. Along with contractor B. O. Larsen (builder of the Gym), Hope would be a part of making Balboa Park ready for the 1935-36 California Pacific Exposition. (Larson built the Expo's Ford building, today's Aerospace Museum).
Next to the Gym, around to the left as you face it, is a shade structure next to an electrical building. The building that used to be here was built in the 1960s to house the school's Associated School Body (ASB). For over 30 years, Gloria Jones advised ASB and taught US History here, enlightening students with her great story telling, guiding and shaping school culture for generations. Being ASB adviser at Grossmont is a monumental task assigned to incredibly talented people—Gloria would be followed by legendary baseball coach and future Principal, Jeff Meredith. Today, one of Gloria's former ASB students, Jeremy Hersch, directs our ASB. Jeremy is the district's teacher of the year (2018). You might remember that Gloria brought Advanced Placement to Grossmont in the 1980s—I, another one of her former students, took over teaching Advanced Placement US History for her in 2000, as her legacy continues to shape GHS.
Across the lawn from the Gym, standing on what originally alternated between physical education areas and parking lots, were the Science and Art buildings. These classrooms were added in 1948-49. The buildings housed some of the best symbols of dedicated teaching and professionalism for nearly 60 years. When you think about artistic and scientific institutions at Grossmont, you think of names like Moriarty, Hatcher, Helm, Widener (remember Ray's snakes?!), Eklund (remember Tom's toys?!), and Mandell. Today, Measure BB will soon replace the torn-down Science and Art buildings with a Performing Arts Building, classrooms, and a museum.
In silhouette at the doorway of the Art Building is Kenny Church, talking to a girl and posed for eternity in 1958s El Requerdo. Kenny went to Vietnam with a lot of other Grossmont grads—in his case to serve his country in the Central Highlands, in every case returning changed forever. Grossmont has given more than her share of soldiers, sailors, airmen, and marines to the defense of our country. In the Second World War and Korea Conflict alone, 38 graduates died, scores more were injured, and still more served. During the Korea War, Class of 1947 honor graduate Norman Freeman would lose his life at the controls of America's first operational jet, the F-80 "Shooting Star," because of an engine flameout. It is to his dedication and service that our most prestigious award is given at graduation.
More recently, three locations have been dedicated to veterans who have either died in combat, or have passed away, after returning from duty to give substantial service to Grossmont: in 2003, the football field was dedicated to a soldier lost in the buildup to Operation Iraqi Freedom—Lt. Thomas Adams (class of '93), the nephew of Thomas P. Adams; the baseball field is dedicated to Joe Gizoni; the Old Gym's basketball court is dedicated to Edward "Little Eddy" DeCoito.
In unique service are heroes of another kind--astronauts. Of the first three men to reach the moon, one attended Grossmont. William Anders, a student in the 1950s, was part of the hurried, historic Apollo 8 flight in December 1968, which was prompted by satellite photos revealing that a Russian attempt to reach the moon was imminent. A 1978 graduate, Marine Rick Sturckow, went on to be a Top Gun and test pilot, fly dozens of missions in Operation Desert Storm, and pilot two space shuttle missions. Additionally, optics specialist Dr. Ellen Ochoa, graduate of 1975, is the NASA Deputy Director of Flight Crew Operations and has logged an incredible 978 hours in space. She has completed four shuttle missions to date.
Continuing west of the Upper Quad., we cross what was once Murray Drive to reach the current Administration building. The original Administration building was built in the late 1950s upon the foundation of concrete tennis courts. For a time, the road through campus was open before and after school, with buses dropping students off right on campus. Many may remember popular old Al Ellen as the attendant in front of school, waving drivers from Murray Drive into the parking lot from his small checkpoint building.
If it is the late 1950s, there are Mike Eddy and Mickey Bruce, in the office and in trouble again (or assumed to be), dressed in rolled-up Levis, white t-shirts, and white buck shoes, waiting for then-Vice Principal Walter Barnett to dole out punishment. Ironically, Mr. Eddy would find himself again in front of Principal Barnett's desk in 1969, but for another purpose. By that time, Eddy had served in the Marine Corps, using his G.I. Bill to get his teaching credential at SDSU, and he was looking for a job. He would be hired, after assuring Mr. Barnett that he had indeed changed. You may have taken Geography from Mr. Eddy in the early 1970s, seen him on the administrative staff at Chaparral Continuation School or as Vice Principal at Grossmont in the mid- to late-1970s, or using his law degree as a District administrator.
On the interior walls around the old Administration building, before many walls were removed, Grossmont used to honor past graduates by displaying their pictures. You might remember seeing pilot Ben Cloud, class of '49, sitting in his navy fighter. He went on to fly missions over North Vietnam, marry fellow classmate Dianne Ridgway (formerly Daggs), and be a stepfather to Grossmont math teacher Rob Ridgway and grandfather to two former Grossmont students--Rob's children.
Once, the buildings between the staff parking lot and the Administration building housed Special Education. In 1962-63, the Grossmont Union High School District became one of the first districts in the nation to offer a specific special education program, then supervised by Principal Mallek and functioning as a school-within-a-school. Today, Grossmont High still provides for special needs students who at one time were completely left out of the educational system. Teachers named Blazovic, Lybrand, Ronstadt, Amerling, and others have seen much of the battle that continues over the relationship between "special" and "mainstream" education.
As we walk along what used to be Murray Drive, running right through the middle of the campus, we pass the "modern" Cafeteria, built in 1950-51. Were we here on the afternoon of November 22, 1963, it would be picture day for the Promenade, and Carol Suggs (later principal's secretary Carol Ambrosia) would be eating her lunch, listening to the student radio station, once located in what is now a back storage area. She and other students would be hearing news of the assassination of President Kennedy. Perhaps other sorrowful moments Grossmont students have shared were equally as shocking: the morning of September 11, 2001; the Challenger explosion; the PSA crash in September 1978; the death of President Franklin Roosevelt; losses in war; and the accidental and needless deaths of classmates and staff members—but the murder of JFK seems to have had the greatest impact. In fact, the only death ever to receive an El Recuerdo page of commemoration to an individual who was not a student or staff member is in his honor.
Beyond the Cafeteria, there is the new state-of-the-art artificial turf football and soccer field. If Jack Mashin, "the Fox of the Foothills," could only see it now. . . . Back when Grossmonters played on dirt, Coach Mashin used to have physical education students pick up rocks off the fields on game day. He will always be remembered down there on his field, with his hat and whistle, symbolizing a lifetime of dedication. The football stadiums at Grossmont High and Grossmont College honor that commitment by bearing his name.
Marlin Baer is down there too, forever fondly remembered as one of the great coaches in the county. Students from other schools would come to him to get advice on track and field sports and weight lifting. Competing at a very high level, Coaches Baer and Hatcher invited the best schools from as far away as L.A. to compete at Grossmont. Once, in the 1960s, Centennial High from Compton showed up for a meet, hungry from their journey. Choosing not to stop and try to find a meal in unknown and potentially dangerous quarters, the hungry athletes were ultimately fed by historically accepting, non-segregated Grossmont High. Marlin's legacy to Grossmont includes the esteemed careers of his daughters, Grossmont graduate and former English teacher Connie Baer, and math teacher Yvonne Vellone. Connie and her sister (former graduate Lynn) currently run our school museum.
The time and energy of so many spent on Grossmont's courts and fields must surpass anything in the county. The performances of great names--dedicated players and coaches--include the names of Fitzmorris, Maynard, Head, Smith, Hancock, Carroll, Roberts, Bullock, Karnopp, King, Redditt, Martin, Sutton, Hulbert, Foggiano, Hupf, Earley, and more. Who could forget tennis coach Mel Schetselar's great teams between 1963-1974, and their consecutive League Championships—at one point, the team won 200 matches in a row?
Passing the old Shop Building (since replaced by the new Science Building), once the Boys' Locker Room, we next reach the one-time location of the Girls' Locker Room. The "girls across the road" (Murray Dr.) had their showers there from 1950. From the first, boys have given this location a reverence of rare exception--a common problem in 1950 was boys looking through the building's windows.
When it comes to girls' sports at Grossmont, often forgotten is the fact that it wasn't title IX of the 1972 Educational Amendments that started broad female participation in athletics. In the 1920s, Grossmont had girls' baseball and basketball teams, as well as other sports and activities, even if bloomers (pre-shorts) were a requirement. Yet somewhere toward the middle of the last century, the roles of men and women became more rigid, when it seemed that times were changing rapidly. Not only was less money available for sports (girls' sports suffering first), but also millions of American G.I.s were coming home to start families. The resulting baby boom required both men and women to meet certain societal expectations that would, it was hoped, prevent the onset of another Great Depression and see the U.S. through the Cold War.
To the north of was the Girls' Locker Room (now the weight room) is the Pool, built in 1978-79. The pool is the site of numerous spring sports and activities for Grossmont, District, and local teams, as well as the community. Before the pool was built, the La Mesa Municipal Pool had to serve Coach Morrissey's Foothillers. It is thanks to the skillful work of Principal William Davis and Deputy Superintendent Barrons, added money from La Mesa and El Cajon, and the desire to have a community pool near the planned location of future Harry Griffen Park, that Grossmont built a pool.
Beyond the Pool is another well-used Grossmont and community facility—the New Gym and Band Room, built in 1969-70. From here, Jim Nichols made Grossmont's Marching Band nationally-known, participating in parades and NFL halftime events, winning many competitive trophies, and perfecting the trademark "Rotating 'G.'" Also here, enigmatic and controversial coach Frank Foggiano (class of 1968) has spent innumerable hours committed to all levels of Grossmont basketball, both girls' and boys'.
Across Old Murray Drive from the former Girls' Locker Room (1950-2010) is a building built in the late 1930s or 1940s, behind the Gym but done in the same Art Deco style. The building has been the home of the Drama Department/ The Little Theater for nearly 80 years, Choir for the same time, and the downstairs Band room until around 1970 (Choir moved downstairs when the Band moved out).
From here, the Red Robe Choir's Merle Donohue made Grossmont a truly integral part of the community, participating in Mount Helix's Easter Sunrise Services, the Christmas Pageant, and other events. The Choir continues to sing not only around the county, but also world-wide, even after Dr. Basilio's retirement.
Here also, the Drama department contributed much to the school and community. Audrey Seidel, Ed Hollingsworth, and others made theater a cultural force at Grossmont. In honor of Audrey, some of her former students, led by alumni Ken Wilson, have secured a dedicated portion of the new Performing Arts Center to her—the "Black Box." Not to be forgotten are the dramatic and musical contributions of Mr. Lutz, Mr. Hubler, Mr. Ortiz, and the current theatrical work of Ms. Amity Ecker.
It's 1950 and there is chorale student Juanita Heflin sneaking out the building's east side second floor exit again (today Coach Foggiano's math classroom), after being told by her friends that her constant admirer, orchestral student Harold "Jud" Flower, is waiting for her on the other side. Harold's persistence would pay off, as they would eventually marry, after she finally realized she loved him. They returned in the early 2000s, as many alumni do, to visit and remember Juanita's role as 1950's Virgin Mary in that year's Christmas Pageant.
For their contributions to the institution of Grossmont High, please also remember an incomplete list that includes the following names: Prosser, Harkleroad, "Mom" and "Pop" Sherman, McSpadden, Gilham, Piazzoni, MacRustie, L. Smith, Taylor, Barkell, Gross, Van Den Akker, Van Note, Martin, Lasley, Graessle, Kintzele, Velman, Beck, Claus, Reed, La Plante, Bazik, Gangwisch, Doerr, Peairs, Martin, Giorgi, Richeson, Couri, Henselmeier, Davidson, Roberts, Morrissey, Bullock, Lehr, Manderson, Wakefield, Mosley, Bell, Hausmann, Torretto, Camara, Brown/Manns, Fowler, Foster, S. Head, Stav/Lipski, Aguirre, Havens, Roach, Hall/Raymond, Rodrigues/Bates, Fromer, Seese, Husson, Head, Havens, Fromer, Park, M. Smith, and many others.
At our last stop, we sit in my classroom at the back of the school in Room 825—the Social Science and (once) Language Building since the 1950s. It is here I often reflect on the past. Many traditions are no longer continued at Grossmont (the Christmas Pageant); some new ones have been added (the "Every 15-Minutes" program); and many remain (Circle G, Daisy Chain, sports programs, the Red Robe Choir, music and drama, Girls' League, Boys' Federation, school awards). A society without traditions is not truly a society, but merely a group of people forced by immediate circumstances to be in close proximity to one another for a given period of time. In sharp contradiction, we are together forever, inexorably bound by a unique experience that brought us to a place of dedication—both physical and mental—for students, faculty, and community.
As I write this and the tour concludes, Grossmont is being remodeled again, thanks to another bond measure. This is fitting, as one of the greatest traditions of all at Grossmont has been change. Many of the structures we have known will either be remodeled or be removed. But we "Grossmonters" and "Foothillers" are like our school--changing on the outside, while traditions of commitment and invested ownership born inside us will always remain.
Changes are everywhere. A Humanities building, built on what was blacktop and old tennis courts, now houses English and Special Education. It is located next to a new, state-of-the-art autoshop run by Jordy Lehr (no relation to the autoshop teacher of long standing, who once ran the shop located near the District's shops at the front of the school). The old Science and Art buildings are gone, the space ready for the new Performing Arts center to be built.
In the end, you can use, neglect, and finally tear down a building, but you cannot erase its memories.
Donald J. Ginn, Teacher, Class of '87 and GHS U.S. History Teacher
Written Summer 2006 and Updated 2018
GROSSMONT PRINCIPALS
Carl Vance . . . . . . . . . . . . . . . . . . . . . . . . . . . . . . . . . . . . . . 1920-1924
Carl Quicksall . . . . . . . . . . . . . . . . . . . . . . . . . . . . . . . . . . . . 1924-1944
Louis Smith . . . . . . . . . . . . . . . . . . . . . . . . . . . . . . . . . . . . . 1944-1951
John Cornelius (Class of 1928) . . . . . . . . . . . . . . . . . . . . . 1951-1952
Harry Riley . . . . . . . . . . . . . . . . . . . . . . . . . . . . . . . . . . . . . 1952-1955
John Warburton . . . . . . . . . . . . . . . . . . . . . . . . . . . . . . . . . . 1955-1959
Walter Barnett (Class of 1928) . . . . . . . . . . . . . . . . . . . . . . 1959-1976
William Davis (Class of 1948) . . . . . . . . . . . . . . . . . . . . . . . 1976-1987
Robert Brady (died after three months) . . . . . . . . . . . . . . . . 1987
William Davis . . . . . . . . . . . . . . . . . . . . . . . . . . . . . . . . . . . . 1987-1988
Sidney Gerstler . . . . . . . . . . . . . . . . . . . . . . . . . . . . . . . . . . 1988-1990
Stephen Larivee . . . . . . . . . . . . . . . . . . . . . . . . . . . . . . . . . 1990-1993
William Ashman . . . . . . . . . . . . . . . . . . . . . . . . . . . . . . . . . . 1993-1999
Brad Lichtman . . . . . . . . . . . . . . . . . . . . . . . . . . . . . . . . . . . 1999-2002
Theresa Kemper . . . . . . . . . . . . . . . . . . . . . . . . . . . . . . . . . 2002-2011
Daniel Barnes . . . . . . . . . . . . . . . . . . . . .. . . . . . . . . . . . . . . 2011-
CONSTRUCTION MEASURES, 2004-2018
Proposition H: Remodeling of the 500, 700, and 800 Buildings
Demolition of the Old Manual Arts Building
Construction of the New Science Building
Construction of the New Physical Education Building
Proposition U: Construction of the New Humanities Building
Construction of the New Auto Shop
Construction of the New Art and Administration Buildings
Construction of the New Tennis Courts
Construction of the Child Development Center
Proposition BB: Demolition of the Old Arts and Science Buildings
Construction of Solar-Paneled Parking Shade Structures
Construction of the New Performing Arts, Museum, and Classroom Space
GHS Echoes in the 20th Century
Grossmont High School
"Through the Decades"
Compiled by The Foothill Echoes
1920
July 12, 1920, a unification election was held, Riverview High School and Cajon Valley were consolidated. They temporarily became Grossmont High School for the 1920 – 1922 school years.
Earlier that year, Col. Ed Fletcher donated 14 acres atop the Murray Hill summit as a new school site. A bond was approved on November 5, 1920, and construction began on this new school September 17, 1921.
320 students began school on September 25, 1925. The cost was $135,050 and by comparison, the cost of building West Hills in 1988-1989 was $28 million.
The first senior class graduated from the La Mesa campus. They choose Green and white as their colors. But, by 1927, the colors were changed to blue and gold.
Emma May Ayers (class of 1925), remembers that J. Howard Becker's school bus had to turn around and back up the Grossmont Summit. The reverse gear was the only one low enough to handle the steep grade.
Grossmont's first San Diego County championship was earned in 1921 by the baseball team. The first title for a team playing at the school's current site came in 1923 – 1924 when Jack Mashin's 130 pound Hilltoppers' basketball squad finished with a 14 – 2 record.
An auto mechanics class was introduced in 1924, and woodworking was another of the school's offerings.
The first Christmas Pageant was presented in 1925
The first issue of The Foothill Echoes came out in February of 1927 and was in a mimeographed broadsheet form. Margaret Wieban's business class produced The Echoes. It became the official newspaper that fall under the guidance of Dorthy Cooke-Smith.
Hill Chatter, a literary magazine, had published its first issue in December of 1924.
The passenger rail service to East County was ended on March 3, 1928. Many students relied on this train to get to school. It was reopened in June of 1989 as part of the MTDB's trolley line.
The first night-time football game was played in San Diego at the old Navy Field at the foot of Broadway against St. Augustine.
1930
Jack Mashin's1933 and 1934 football squads are Grossmont's only undefeated football teams. However, the Foothillers never got to play a Southern (California) Section CIF championship. School administrators believed it was too expensive to bus the players to Los Angeles for the playoffs.
In December of 1934, Principal Carl Quicksall announced elimination of the 1935 El Recuerdo due to "not enough deposits to insure financial success of the yearbook." Students and their advisor, Dorothy Cooke-Smith proved him wrong.
In January of 1936, 100 new freshmen entered Grossmont.
1936 and 1937 saw renovations to the New Gym (now the Old Gym).
Girls' League votes to allow female Foothillers to wear the "shirt".
1940
The New Gym (now the Old Gym) opens with 240 new lockers and an additional music section for performances of the annual Christmas Pageant was done in October of 1941.
World War II began December 7, 1941 and the only mention in The Foothill Echoes is an oblique reference to "blackouts"
Due to World War II, seven January GHS graduate are drafted immediately out of high school.
February 19, 1942, President Roosevelt signed the executive order evacuating more than 120,000 Japanese-Americans, including the GHS Commissioner of Finance, student Tami Takehara.
The Foothill Echoes printed air raid instructions on February 24, 2943.
In March of 1943, naval aviators informed Foothill seniors that men are now able to enroll in the army at 17 instead of 18 years of age.
The Echoes reported that 930 Grossmont boys "would go out fighting for our country" from 1942 - 45.
On October 30, 1945, the Boys' Fed members wore the first GHS sweater/jacket to represent Grossmont.
Campus Aides were hired in May of 1946 to patrol Grossmont's halls.
A cheering section (now the pep squad) was organized on October 18, 1946. The fans dressed with blue and gold caps, white blouses and t-shirts
The Class of 1947 changed its graduation site to Mt. Helix.
A record was broken at the beginning of the 1947 – 1948 school-year by a record enrollment of 2296 students attend Grossmont (areas included are Spring Valley, La Mesa, El Cajon, Santee, Lakeside, Bostonia and Julian).
The new science building opens in October 1948. A year after, the new art building opens in September of 1949 at the cost of $200,000.
In September of 1949, student's pictures were added to ASB cards which cost $1.80.
1950
In January of 1950, a new girls' gymnasium was opened just east of the pool. A new cafeteria was built costing $126, 000 and served hot meal for the first time since October 1946.
Grossmont High School's ASB convention was dedicated by Principal Lewis F. Smith in 1950. The Freedom Foundation praised it as "the most outstanding contribution to democracy" by American high school students. Grossmont was the first U.S. high school to feature such a nominating convention.
Tom Pfimlin, the Foothill Echoes editor-in-chief, interviewed U.S. Vice President Alben Barkley, for a front-page article.
In November of 1950, the East County voters overwhelmingly approved a local bond issue for $1.9 million that financed "the University Avenue high school." Grossmont would remain on double sessions for two more semesters until Helix opened in January of 1952.
In 1951, Grossmont won the CIF Southern Section of the baseball championship.
On January 1, 1953, Grossmont's Blue and Gold band participated in the annual New Years' Day Rose Bowl Parade in Pasadena.
The Foothillers' Cross Country Team wins the CIF Southern Section Championship in 195
El Cajon Valley High School was opened in September of 1956
El Capitan was opened in 1959 to accommodate the increasing students in the El Cajon Valley.
An oil painting by freshman Frank Zappa, who would later form the band "Mother's of Invention" was the winning entry in the California Division of Forestry's 1955 poster contest.
Grossmont lost 16 of its teachers in 1957, when Mount Miguel High School opened.
Life magazine's April, 1959, issue featured Grossmont's tenth-annual ASB nominating convention.
1960
In 1960, Pulitzer-Prize winner, Carl Sandburng, saluted Mary Thieman's sophomore English students for their "interesting and independent definitions of poetry."
On March 3, 1960, eight-year old Woody Clark became the youngest recipient of a Grossmont Varsity Letter, as the Foothiller's Basketball Mascot.
Grossmont students vote in February of 1962 to eliminate the school's songleaders, citing "competition between songleaders and cheerleaders [as] too distracting."
September of 1962 began with a new tradition at Grossmont of, Freshman Welcome Week. Freshman still paint the "G" on Cowles Mountain blue.
On October 19, 1962, the mascot Guhs (Gus) brought a girlfriend to the football game. Her name was Gertie and she was welcomed by the Hill Howlers' Spirit Club.
The following November saw the faculty parking lot be dedicated.
The new math building was added to the campus in September of 1963, just two months after President John F. Kennedy is assassinated on November 22, 1963.
On March 27, 1965, "Television and Film Star" Ronald Reagan, before this successful gubernatorial and presidential campaigns, was the keynote speaker to delegates of Grossmont' 16th annual Nominating Convention in the auditorium.
The first mention of Vietnam was in The Foothill Echoes in a 1965 editorial.
In 1967, Grossmont cancels its Nominating Convention "because of the lack of spirit and enthusiasm displayed by underclassmen." This had only occurred once before in 1956 when only two candidates were running for each office.
Grossmont began conducting a 10-day course detailing "the dangers and effects of various drugs" during PE classes in November of 1967. 70 students were expelled this year for drug-related offenses.
1970
Soccer is the first new sport stated at Grossmont in the 1970s.
In 1971, due to students' anti-war protests during the Vietnam War, Grossmont drops its campus battalion of the California Cadet Corps.
Grossmont's football, basketball and boys' and girls' swim teams all win CIF championships during the 1971-72 school year.
Citing conflicts with Grossmont's administration and ASB, President John McDaniel, Vice President Dan McLain and two other ASB commissioners resign their positions before spring break of the 1972-73 school year.
With the passage of Title IX legislation in 1972, girls were now allowed to participate in boys' athletics beginning with the 1973 school year. The Aardvarks, Grossmont's girls' swim team, wins consecutive CIF titles in 1972, 1973, 1974, and 1975.
The San Diego Section's CIF adds seven girls' sports – basketball, field hockey, gymnastics, softball, tennis, track and volleyball to its athletics calendar for the 1974 -75 school year.
In May of 1974, the Governing board votes to eliminate all extracurricular activities during the upcoming school year because of a $1.5 million deficit in the Grossmont Districts' budget, but voter override this crisis when they narrowly approved Prop E on the June 4th ballot.
Grossmont's enrollment swells to 2800 in 1975 and the Trustees vote to extend the school day to nine 47 minute periods with Foothillers attending in morning and afternoon shifts.
Hiller's Outpost, a new student store was established by Grossmont's Distributed Education Clubs of America members (DECA), beneath the drama room.
In December of 1975, Principal Walter Barnett bans personal advertisements from El Recuerdo. Mr. Barnett, a member of GHS's Class of 1928, retires at the end of the school year having served 17 years as the school's principal and 12 as a GHS teacher and coach.
Grossmont's band is involved in a local brouhaha when it played during President Gerald Ford's October 24th campaign rally at Grossmont Center.
In the spring semester of 1977, PE classes became co-educational.
Work began on Grossmont's pool and aquatic center on December 18, 1977. It was ready in September of 1978 for water polo and swim teams.
On July 17, 1977, the state legislature makes PE classes optional for upperclassmen. Foothillers no longer have to take four years of PE.
GHS Counselor, Frank Kowalki, names San Diego's new NBA franchise the Clippers.
1980
In the 1980s, Grossmont reinstates many of the honor courses that had been dropped in previous decade. 300 Foothillers sign up for 14 honors courses in September 1981.
The local booster club commits to raising $200,000 for a lighted football stadium and six months later on October 23, 2981, the Hillers play their first truly "home" game since 1952.
In May of 1983, Grossmont's 70 teachers switch over to computer attendance to keep track of tardies and absences.
Since the passage of Proposition 13 in 1978, students needed to have a 3/3 GPA in order to take a sixth class. Only 18 percent of Grossmont's students were taking six classes, but in September of 1984, the trustees boost the graduation requirement to 220 credits.
A new 2.0 GPA standard for students was instituted in order to be eligible for sports and some extracurricular activities.
The Grossmont Conference celebrated its silver anniversary in 1985, right before the Principal's Council voted to split the conference into separate leagues for divisional play.
In November of 1985, a loosely organized student protest to "show support for their teachers" during an impasse in contract talked escalates into a chaotic walkout. 750 referrals were written the next day for students who had missed their 3rd period class.
The Class of 1987 votes in October to become the first class in almost 50 years to graduate on campus when seniors choose Jack Mashin Stadium as the site of their commencement.
In 1988, three years after the school had celebrated its diamond anniversary, the last curtain came down on Grossmont's annual "gift to the community." The Pageants' founder, Eva Quicksall, had died in May.
1990
During the summer of 1990, trustees approve a PE opt-out test to waive Foothillers second year of PE. This is no longer offered.
September 1990, Grossmont begins the lockout policy.
In 1991, Principal Steve Larivee had students' lockers removed from campus. Six years later, Principal William Ashman reinstates lockers.
Human Relations Council begins its successful peer mediation and counseling sessions to resolve campus conflicts in 1992.
In November of 1992, the Foothillers' Academic Decathlon team places fourth overall among 44 San Diego County schools.
During the 1994-95 school year, Grossmont dabbles with a limited block schedule.
Proposition O, to renovate and update the Grossmont District high schools were endorsed by East County voters, but did not receive the two-thirds approval it needed to pass.
Superintendent JoAnn Smith promotes "open access" to honors and Advanced Placement courses. The enrollment for these classes doubles for the 1996 – 97 school year.
In 1996, drug dogs began visitations on campus.
150 Foothillers, their parents and community members rallied in the Old Gym to show trustees their support for Minitown, trustees unanimously supported the program.
In April of 1997, trustees double the length of spring break from one week to two weeks.
Superintendent Thomas Godley resigns in December of 1998. Godley had tried unsuccessfully in December of the previous year to censor The Echoes for its coverage of local board politics.
An investigation by the Office of Civil Rights revealed disparities between athletic facilities for boys and girls. This was a violation of Title XI, 1972 which required equity in opportunity for both men and women. District administrators had until February to resolve these problems.