1920's Hall of Honor
Lawrence Carr, Class of 1925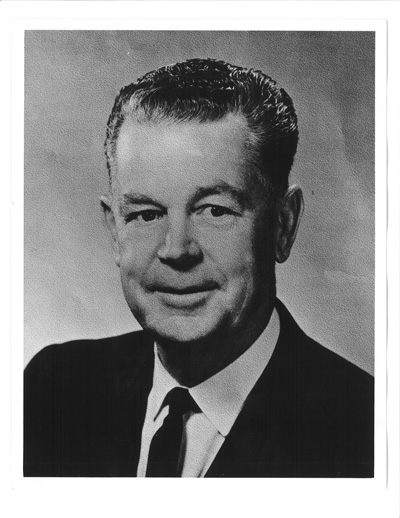 Lawrence spent his career in the San Diego City Schools District in various coaching and administrative positions. During his high school coaching days, he mentored several students who became nationally known athletes. Among them was Hoover High School future Baseball Hall of Fame member Ted Williams. Carr's 1935 football team at La Jolla High finished its undefeated season with a Metropolitan League Championship. In 2009, the San Diego Hall of Champions posthumously honored Lawrence Carr with a Meritorious Achievement Award for Coaching.
Lawrence Carr was a vice principal at Hoover High in 1936 before becoming a vice principal at San Diego High. In 1952 he became the first principal at the new Kearny High School. In 1954, Lawrence Carr became principal of San Diego High School and stayed through the sixties. (His father, Lawrence Carr, Sr., had taught at San Diego High from 1904 to 1942, so between them there was a Lawrence Carr on the faculty for over fifty years, from the old Russ High through most of the life of the San Diego High School, the "Old Grey Castle".)
In addition, Carr was president of the Downtown Kiwanis Club and the San Diego Administration Club.
Captain Howard M. Avery, Class of 1926
Captain Avery was a Navy pilot responsible for sinking two German submarines in World War II. He sank both submarines while flying patrol off the deck of a converted merchant ship, which was escorting a convoy to England early in the war. After the war, Howard was a naval attaché in London and Paris and later with NATO in Europe.
In 1961, he became Commanding Officer of the Lemoore Naval Air Station in Lemoore, California, a master jet air station, one with congestion-free air space. The air station was commissioned on July 8, 1961, with Capt. Howard M. Avery, newly appointed commanding officer, presiding over the opening ceremonies. Captain Avery retired from the Navy in 1967.
Major General Osmond J. Ritland Class of 1927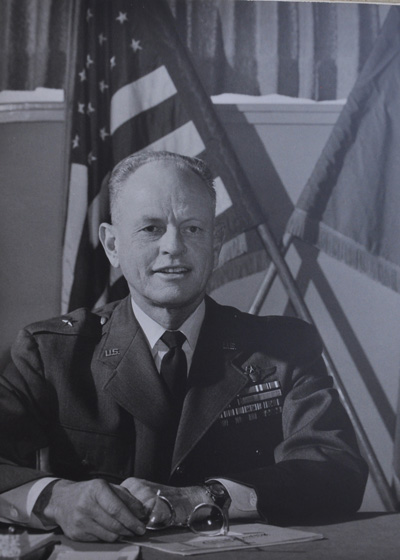 Major General Ritland, deputy to the commander, Air Force Systems Command for Manned Space Flight, was a command pilot with more than 9,400 flying hours to his credit. He devoted 27 years to military service, amassing the equivalent of more than one full year at aircraft control.
General Ritland was awarded the Distinguished Flying Cross for test flying at Wright Field, where he was responsible for the development of programs for engineering, flight performance, and testing of the majority of American aircraft used during and immediately after World War II. During this time, he flew more than 200 different aircraft, including the enemy aircraft of the Germans and the Japanese. For his service in establishing and maintaining a supply system for operations against the enemy in the China-Burma-India theater, General Ritland was awarded the Bronze Star and the Air Medal.
In 1962, General Ritland was awarded the Distinguished Service Medal in recognition of his outstanding achievements in furthering the aerospace capabilities of the US in ballistic missile and space programs while commander of the Air Force Ballistic Missile Division and commander of the Space Systems Division. In 1963, General Ritland was the recipient of the General H.H. Arnold Trophy for outstanding contribution to military aviation and aerospace progress.
Paul T. Mannen Class of 1927
Paul T. Mannen graduated during the first decade of Grossmont High School's existence. In his post-GHS life, he exemplified an ongoing commitment to the business community and to community service at large.
Paul was a poultry executive and businessman, operating a wholesale egg business (Mannen Eggs). Also, in 1936 he was a Master of the La Mesa Masonic Lodge. Paul was President of the San Diego Junior Chamber of Commerce, also known as the JayCees, and an official of the 22nd District Agricultural Association. From 1949-59, Paul was the CEO of the Del Mar Fair.
In these arenas he accomplished a great deal as befitting an honor graduate of his alma mater.
Walter Barnett Class of 1928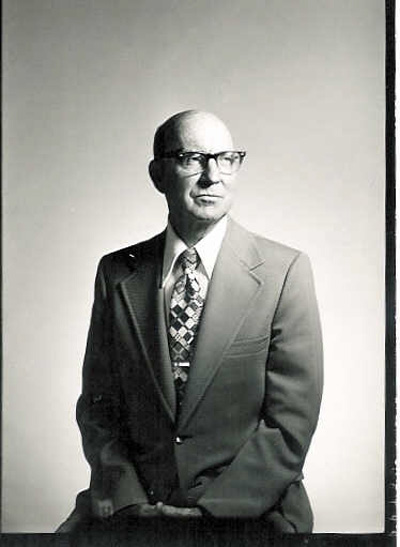 Upon Walter Barnett's death, The Foothill Echoes stated, "A significant portion of Grossmont's history passed away with the death of Walter Barnett", a man who was often called "Mr. Grossmont" because of his love for his alma mater.
In 1945, Mr. Barnett returned to Grossmont, and for the next 34 years as a faculty member, Walter served the school as a teacher, a coach, a counselor, a vice principal, and from 1959-1976, Grossmont's second longest serving principal. The New Gym is appropriately named the Barnett Gym, and when his honor graduate photo was displayed in the gym, beneath it was the caption, "Grossmont Spirit in Person."
In 1967, the El Recuerdo photo of Walter Barnett shared this caption: "Mr. Barnett, Inspiration for Perfection", a fitting tribute to a man who devoted half of his life to Grossmont High School.
Judge Fenton Garfield Class of 1928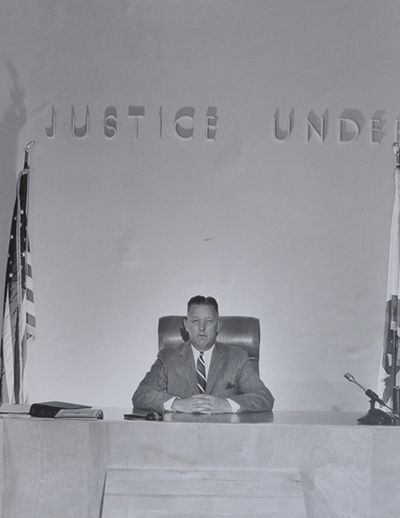 After attending San Diego State College and the University of Southern California Law School, Fenton Garfield practiced law in Los Angeles from 1935-1941. In 1941, he joined the Federal Bureau of Investigation, where he remained until 1946 assigned to duty in Washington D.C. In 1946, he returned to La Mesa and practiced law with his father.
From 1949-1952, Fenton served as La Mesa City Judge. In 1952, he was appointed the first Judge of the newly formed 3rd District Court of El Cajon. According to the Grossmont HS students who nicknamed him "Friendly Fenton," he was strict with the students who appeared before him. A rising caseload led Judge Fenton to fight hard for a second judge in the El Cajon Judicial District, which occurred in 1958.
Always active in civic and community affairs, Fenton gave generously of his time and talents to his church and many organizations such as the La Mesa and El Cajon Junior Chambers of Commerce, the La Mesa Rotary Club, and the Elks Lodge of El Cajon. Throughout his career, Fenton was described as a man of integrity, and in 1963, Sheriff Joseph O'Connor, upon Fenton Garfield's death, described him as "the fairest man we have ever had on the bench."
Amorita Treganza Class of 1929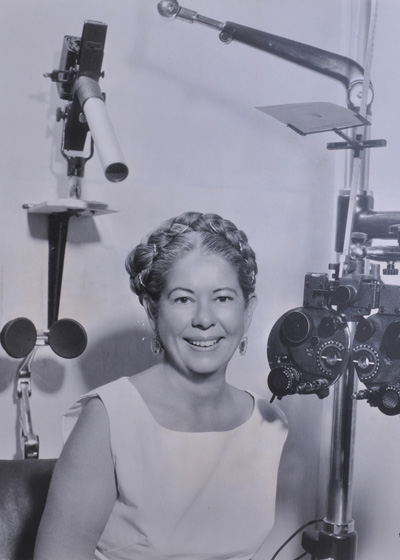 Doctor, mother, dancer, actress, model, fruit-packer-this Renaissance woman did it all. Amorita Treganza's long life was packed with diverse achievements.
At 14, she drove her ill family from Florida to California and settled in Lemon Grove. She attended Grossmont High, where she excelled in dance and drama. She became the first Miss Lemon Grove, continued her acting career at SD State College, then performed for 10 years with the San Diego Community Theatre, now called the Old Globe.
Dr. Treganza graduated from USC to become a noted pediatric optometrist and ophthalmologist, who pioneered new techniques for solving children's eye problems. She was a founding member and first woman to head the national College of Optometrists and Vision Development. In 1964, she was chosen San Diego's Woman of the Year.