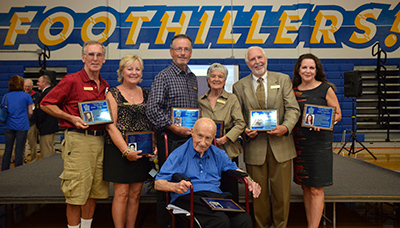 2015 Hall of Honor
From the 1960's to the 1980's, 27 Grossmont alumni were selected as Honor Graduates. Beginning in 2010, and every 5 years subsequent, Grossmont High School's Hall of Honor will welcome notable alumni or faculty/staff/community members who have achieved in one of several areas: athletics, academics, arts, public service or who have been dedicated faculty, staff or community members. Currently, there ar 39 Hall of Honor Members. .
Below are the photographs and the text from the Hall of Honor plaques presented to each honoree; these plaques are displayed in the Museum! These individuals have brought honor to Grossmont High School after their graduation or through their years of involvement with Grossmont.
2020 Hall of Honor
Please join us Saturday, October 17, 2020 for the Induction Ceremony.
With the addition of these 12 inductees, the Hall of Honor will acknowledge the achievements of 51 outstanding Foothillers.
4 GHS Educators
Ethel Prosser, GHS Pioneer Educator 1920-1952
Carl Quicksall, GHS Pioneer Educator 1920-1944
Eva McCarthy Quicksall, GHS Pioneer Educator, 1922-1962
Gloria Jones, Legendary History Teacher 1962-2000 and ASB Advisor 1967-2000
8 GHS Alumni
Gene Chubb, Class of 1948, GHS Benefactor
John Lawrence Colonghi, Class of 1965, Financial and Public Affairs Consultant to American Indian Tribes and Chief Fundraiser for the Smithsonian Institution's National Museum of the American Indian (NMAI)
Scott Lippman, M.D., Class of 1973: Director of Moores Cancer Center at UC San Diego Health Professor of Medicine, Senior Associate Dean and Associate Vice Chancellor for Cancer Research and Care, Chugai Pharmaceutical Chair in Cancer
James P. Zumwalt, Class of 1974, Member of the State Department from 1981; Ambassador to the Republic of Senegal and the Republic of Guinea Bissau from 2015-2017
Lora Cicalo, Class of 1979: Journalist; Managing Editor of The San Diego Union Tribune
Darcy Arreola, Class of 1986, NCAA Four Time Track and Cross Country Champion
Paul Wright, Class of 1987, MLS Player and Legendary San Diego Soccers Indoor Soccer Player
Kristin Rhodes, Class of 1993, 8-Time winner of the America's Strongest Woman Title and a 3-Time Strongest Woman World Champion.
Community and GHS Staff Honorees