October 2021 - 101st Anniversary Celebration Newsletter
Dear Friends,
It's finally time to party. We hope you can join us as we celebrate our school'sremarkable 101 years of history.Make plans withyour fellow Foothillers and join us aswe celebrate that heritage! Spend time on campus reminiscing and "rememberingwhen".
The cornerstone of the celebration is the recognition of our 2020 Hall of Honoron Saturday, October 16th:
4 GHS Educators
Ethel Prosser, GHS Pioneer Educator 1920-1952
Carl Quicksall, GHS Pioneer Educator 1920-1944
Eva McCarthy Quicksall, GHS Pioneer Educator, 1921-1962
Gloria Jones, Legendary History Teacher 1962-2000 and ASB Advisor 1967-2000
8 GHS Alumni
Gene Chubb, Class of 1948, GHS Campus Benefactor
John Lawrence Colonghi, Class of 1965, Financial and Public Affairs Consultant to American Indian Tribes and Chief Fundraiser for the Smithsonian Institution's National Museum of the American Indian (NMAI)
Scott Lippman, M.D., Class of 1973: Director of Moores Cancer Center at UC San Diego Health, Professor of Medicine, Senior Associate Dean and Associate Vice Chancellor for Cancer Research and Care, Chugai Pharmaceutical Chair in Cancer
James P. Zumwalt, Class of 1974, Member of the State Department beginning in 1981; Ambassador to the Republic of Senegal and the Republic of Guinea Bissau from 2015-2017
Lora Cicalo, Class of 1979: Journalist; Managing Editor of The San Diego Union Tribune
Darcy Arreola Lange, Class of 1986, NCAA Four Time Track and Cross Country Champion
Paul Wright, Class of 1987, MLS Player and Legendary San Diego Soccers Indoor Soccer Player
Kristin Danielson Rhodes, Class of 1993, 8-Time winner of the America's Strongest Woman Title and a 3-Time Strongest Woman World Champion.
It is with sadness that we share the passing of Hall of Honoree Ben Cloud, Class of 1949, a man whose integrity won him friends in all walks of life. To learn more about Ben, visit his Hall on Honor plaque on our website or his obituary
We hope to see you soon! Connie, Lynn, Paul, and Jerry
It's Time to Celebrate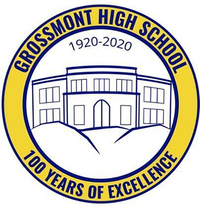 101st Anniversary Tentative Schedule
Friday, October 15, 2021
4-6:30 GHS Museum Open 5:00 New GHS Museum Dedication
6:55 Honorary Coin Toss by Hall of Honor Athletes on the Field Halftime: 2020 and Previous Hall of Honor Inductees
Recognized from the Science Porch before the Marching Band's performance
Saturday, October 16, 2021 10:00 2020 Hall of Honor Ceremony in Theater 11:30 History of GHS Presentation in Theater
9:30-1:00 East County Historical Society Displays outside the Theater 11-2:00 GHS Museum Open
10-2: Car "Show" on Upper Quad 11-1 Food Trucks
11:30-1:00 Cheer and Performing Arts Performances on the Upper Quad Blue Stage
12 and 12:30 Campus Tours (Meet at the Museum)
Masks are required inside the Museum and the Theater.
101st Anniversary Items Available for Sale
Booklets Celebrating Our History
101st Souvenir Booklet and Century of Foothillers Yearbook Supplement
$10 each plus $5 mailing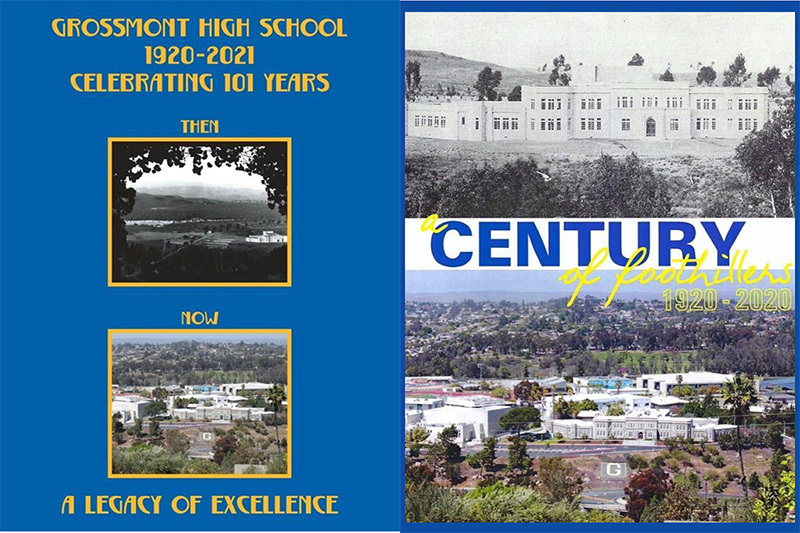 Commemorative Refrigerator Magnets Grossmont High School, Established 1920 - $5
Commemorative 100th Anniversary and "Castle" Ornaments
$20 each plus $5 mailing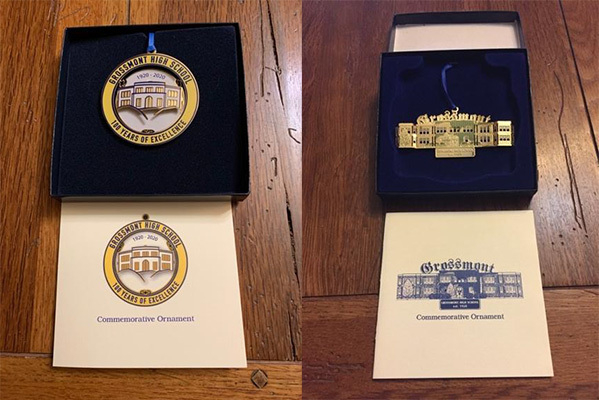 The Christmas Pageant and a History of the Instrumental Music Program Books
$20 plus $10 mailing each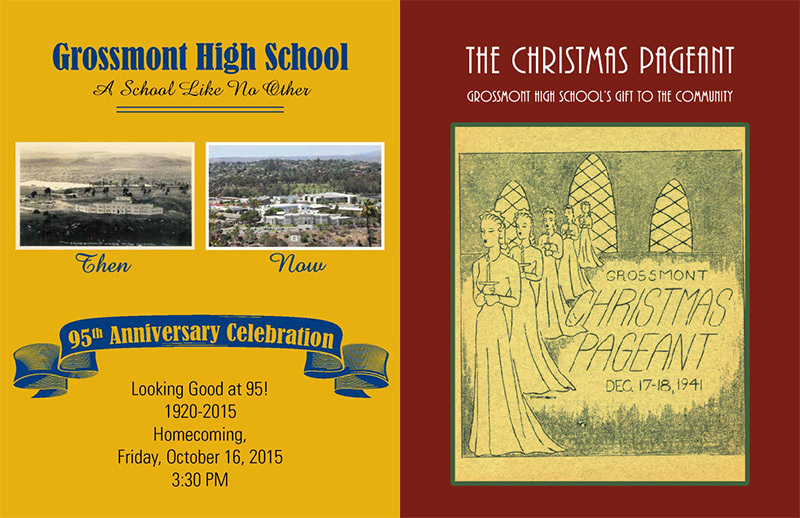 El Recuerdo Yearbooks
$30 or $40 (plus $15 mailing)
This email address is being protected from spambots. You need JavaScript enabled to view it. us ahead of time for cost and availability and to reserve your copy.
Not for sale: 1921-1924, 1935, 1960, 1965-1969, 1971,1977, 1990.
CDs of 50 of Our Vinyl 1950s-1970s GHS Record Collection
$10-20 plus $5 mailing
Instrumental Music and Vocal Music from $10-20 Email us for the flyer or visit our Museum Store.
You may purchase these items with a credit card online at foothillermuseum.com using the gold donate button; then, email us your choices at This email address is being protected from spambots. You need JavaScript enabled to view it.. (Let us know if you want to pick them up at the museum at the celebration. We'll have them ready to go.)
At the celebration, of course, you may pick up the items and pay with cash or check. You may also write a check payable to GHS Educational Foundation and mail to Connie and Lynn Baer
5990 Avenorra Dr. La Mesa, CA 91942