Our Generous 2013 Donors
Thanks to the support of our wonderful donors, during the 2013-14 school year, these projects were completed.
1. Installation of bronze plaques commemorating Walter Barnett installed in the New Gym; Ken Lehr installed on the outer wall of the new Automotive Technology Facility; Marlin Baer installed behind the new discus throwing ring and fence.
2. The preservation of the historic 1926 ficus repens "ivy" planted by Kate Sessions as well as the 1930's English ivy and Algerian ivy, thanks to volunteer landscaper Dan Crago and the volunteer JNROTC cadets on 2 Saturdays work parties.
3. The transplant of the historic 1960 roses that were outside the Administration office to the planters near to the Museum.
4. The creation of framed photographs commemorating the first GHS boys and girls athletic teams in the 3 display cabinets in the foyer of the New Gym.
5. The creation of 4 sports programs: the 2013 GHS/Helix Retro Jersey Football program, the 2014 Boys Basketball Team, the 2014 Girls Basketball Team, the 2014 Boys and Girls Track Teams.
6. The creation of the final 8 Hall of Honor Recipient plaques.
Summer of 2013 Update,
Over the summer, we created 2 new displays in the Picture Room; these displays celebrate our spirit history with Gus memorabilia as well as Spirit car photos and Class and Letterman sweaters.
Currently, we are working on a project to display in the foyer of the New Gym framed 12x18 photographs of the first GHS athletic teams. We hope to have them on exhibit before basketball season.
Thanks to several donors, we have funded the first phase of the Discus Field renovation ($5800), which has begun with the recent relocation and pouring of the cement pad. We are currently fundraising for the second phase, which is a new throwing surface, costing $20,000.
Also, we are halfway ($840) to our goal of raising $1500 to commemorate Walter Barnett's life as a GHS student, teacher, Principal with a Walter Barnett New Gym Plaque. We thank these donors who have contributed: Mari Cloyes, Class of 1965, Sharon Galvin Davis, Retired GHS English Teacher, Curt Fauth, Retired GHS Counselor, Cathy and William Hansen, Retired GC Staff, Lindsey Mead McCrea, Class of 1971, Judi Patterson, Retired GHS English Teacher, and Bob Stockton, Class of 1955.
We hope we can soon add your name to these lists.
(If you would like to support any of these projects. you may use the Museum Pay Pal button on our website or write a check payable to GHS Educational Foundation and mail to GHS Museum, P.O. Box 1043, La Mesa, CA 91944)
We Thank These Generous 2013 Financial Donors
Designated Donations
Sharon Galvin Davis, retired GHS English Teacher, for sponsoring the 2013 Retro Jersey Football Game Program and for funding two Museum Open signs
Bill Woolman, Class of 1962 for 12 Hall of Honor Plaques and 3 Displays of Framed Photographs of First Athletic Teams in the New Gym Foyer
Museum General Fund:
Stephen and Kristine Alessio
Borrego Springs Bank
Terry Bushore
Jere Carlson
Sharon Davis, Retired GHS Teacher
Daniel Denhart, Class of 1961
La Mesa Historical Society (proceeds from retro jersey campaign)
Nancy Becika Jeansonne, Class of 1965
Ed Stalder, Class of 1953
Bob Stockton, Class of 1955
Jim Wade, Class of 1959
Bill Woolman, Class of 1962
Lyle Wright, Class of 1953
A Special Thank You to Our Monthly Staff Donors
Jim Early, Class of 1990
Don Ginn, Class of 1987
Bob Papciak, GHS Staff
Yvonne Vellone, Class of 1975
3 Principal Building Dedication Plaques:
Dani Barton, Retired GHS Teacher
Mari Cloyes, Class of 1965
Sharon Davis, Retired GHS Teacher
Curt Fauth, Retired GHS Teacher
Bill Funke, Retired GHS Board Member
Kathy Gligo, Friend
Dr. W.J. and Cathy Hansen, Retired Grosssmont College Teachers
Bob King, Retired Helix Principal
Evelyn Lasswell, Retired GHS Teacher
Carol Lockwood, Retired GHS Teacher
Robin Luby, Retired GHS Teacher
Lindsey Mead McCrea, Class of 1971
Shelby Miller, Retired GHS Teacher
Judi Patterson, Retired GHS Teacher
Jim Spackman, Class of 1958
Bob Stockton, Class of 1955
Discus Ring Renovation Phase One:
Sharon Davis, Retired GHS Teacher
Dr. W.J. and Cathy Hansen, Retired Grossmont College Teachers
Evelyn Lasswell, Retired GHS Teacher
Shelby Miller, Retired GHS Secretary
Jim Spackman, Class of 1958
Robert Sloan, Class of 1950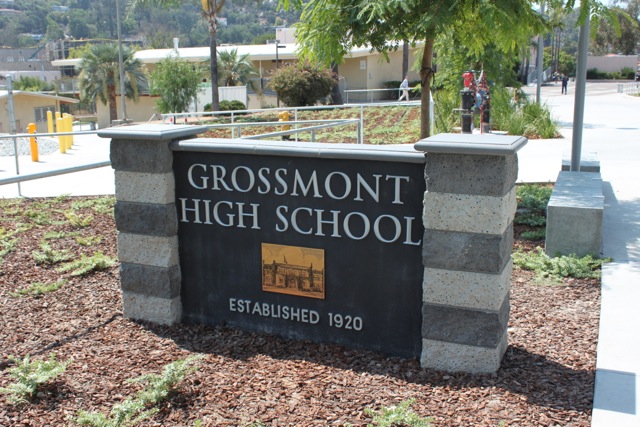 GHS Monument: 2 sided, Stone and Bronze, Adjacent to the Humanities Building
Bill Woolman, Class of 1962
We Thank These 2013 Memorabilia Donors
The Walter Barnett Family: 1950's photo of GHS
The Robert Cordry Family, 1948-1961 GHS teacher: 6 El Recuerdos 1949-1955 and small student cheer megaphone
Carol Clark Cunningham: The Ancestral, History of the Clark family
Lance Dickson, Class of 1986: Signed Professional Baseball Photograph
Hal Doerr, Class of 1954: 1974 Christmas Pageant Program, 1956 Graduation Program
Shirley Salisbury Frey, Class of 1953: 1953 Senior Sweater with Music Letter, GAA Pin, 1920's Photo, G with 1 Star
Bill Gray, Retired GHS Teacher and Coach: Lance Dickson Baseball Card and Various Articles about Professional Baseball Players
Joel W. Hastings, Class of 1951: 1947 Christmas Pageant program and Photograph and VHS History of the Space Program
Judy Cox Heggie, Class of 1962: Songleader Costume
Nancy Becika Jeansonne, Class of 1965: 1965 Baccalaureate and Commencement Programs, Embroidered GUS Badge
Raymond Laabs and Patricia Dickerhoff Laabs, Class of 1948 and 1 949: 7 El Recuerdos, from 1945-1950; 1950 Class Ring, 1948-49 Ice Skating Bade and Edge Club Pin
Lakeside Historical Society and Edna Kouns, Class of 1932: Early Photo of Students and Bus Driver Mr. Hoover, Lakeside Legens Book, 3 Alumni Associaton Reunion Yearbooks, Memorabilia for La Mesa Historical Society
Family of Betty Chidester Minor, Class of 1942: 4 El Recuerdos, 1939-42
Cathy Broding Olson, Class of 1965: Senior Prom Program, 1965 "Bell, Book, and Candle" Drama Program
Alene Head Savage, Class of 1943: 1958 and 1961 El Recuerdos, 1940, 1941 Christmas Pageant Programs, 2 Drama Programs, 1928 Senior Ditch Day Photographs, 1935 Japanese Dancers Photograph, 1935 PE Class Photograph, 35 Issues of 1942-1943 Foothill Echoes, 1942-1943 Pep Rally Program, 1941 Hobbies Program (GAA)
Mel Scott, Class of 1953: 2 Pep Buttons
Ed Stalder, Class of 1953: 1952 Christmas Pageant Newspaper Articles
Bob Stockton, Class of 1955: Written History of Memories of Grossmont, Photo, and El Cajon 50th Anniversary Book
Ron Wade, Class of 1954: Master Track and Field Meet Shot Put and Discus article and certificates, 1954 Track Article
Kaye Wade, Class of 1953: Her Performance History as an Actress, Stunt person, Entertainer
Ruth Topper Wolin, Class of 1952, Family: 21 El Recuerdo Yearbooks from 1931-1955, 1942 Football Score Card, 1944 Commencement Program, Photo of Girls with John Crippen, 1952 and 1953 Helix Tartan Yearbooks, 1945 GUHS Letters
Lyle Wright, Class of 1953: 2nd Retro Jersey Game Photographs