Brian Sipe, Class of 1967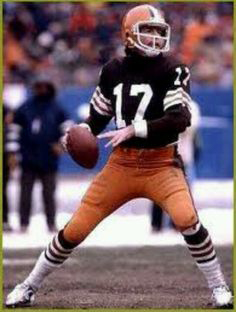 Brian Sipe was the youngest player on the 1961 Little League World Series Championship team from El Cajon. However, at Grossmont and at San Diego State, his talents turned to being a football quarterback. At San Diego State, coached by legendary Don Coryell, Brian set numerous passing records. The 1969 team went undefeated at 11-0 and won the Pasadena Bowl. From 1969-1971, he established himself as one of the greatest SDSU quarterbacks ever.
For twelve years, from 1972 to 1983, Brian played for the Cleveland Browns. In 1980, he led the National Football League in passing and was selected the league's Most Valuable Player after leading the Browns team, nicknamed the "Kardiac Kids", to a Central Division title. The team's "come from behind" ability at the last minute became legendary.
At one time, Brian held nearly every Cleveland Browns' passing record, including most career passing yardage (23,713), most passing yards in a season (4,132 in 1980), and most career passing touchdowns in one season (30). After playing in the U.S. Football League for two years in 1984-85, a shoulder injury ended his football career, but not his love of the game.
While working in real estate design and development, Brian Sipe became head football coach at Santa Fe Christian Schools from 2001 to 2008. Following that, Brian coached quarterbacks at San Diego State University from 2009 to 2014 before returning to custom home design. His advice to those who ask: "Live your life with a purpose and know who it comes from."