June 2023, Final Good News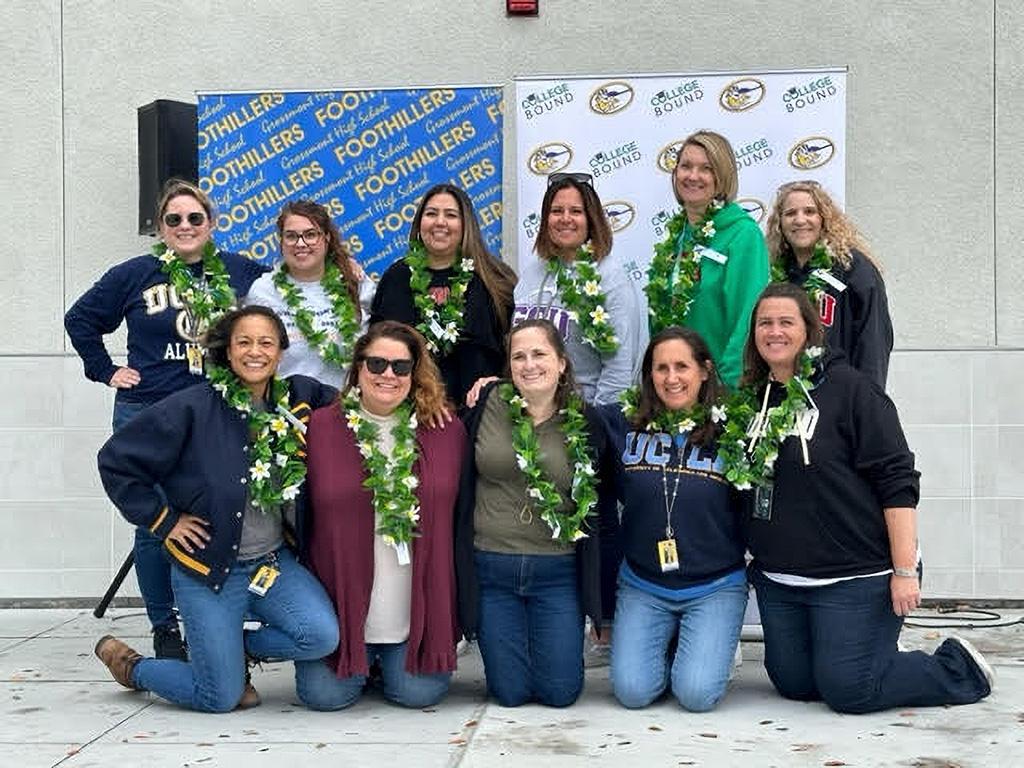 2023 Senior Decision Day Counseling Staff - (Top row) Laura Dawson, Hannah Cuevas, Jessica Porfirio, Amy Steveson, Juli Manuel, Karin Dann (Bottom row) Deborah Aguila, Krista Santoro, Abby Soule, Rebecca Vargas-Wilson, Briane Froumis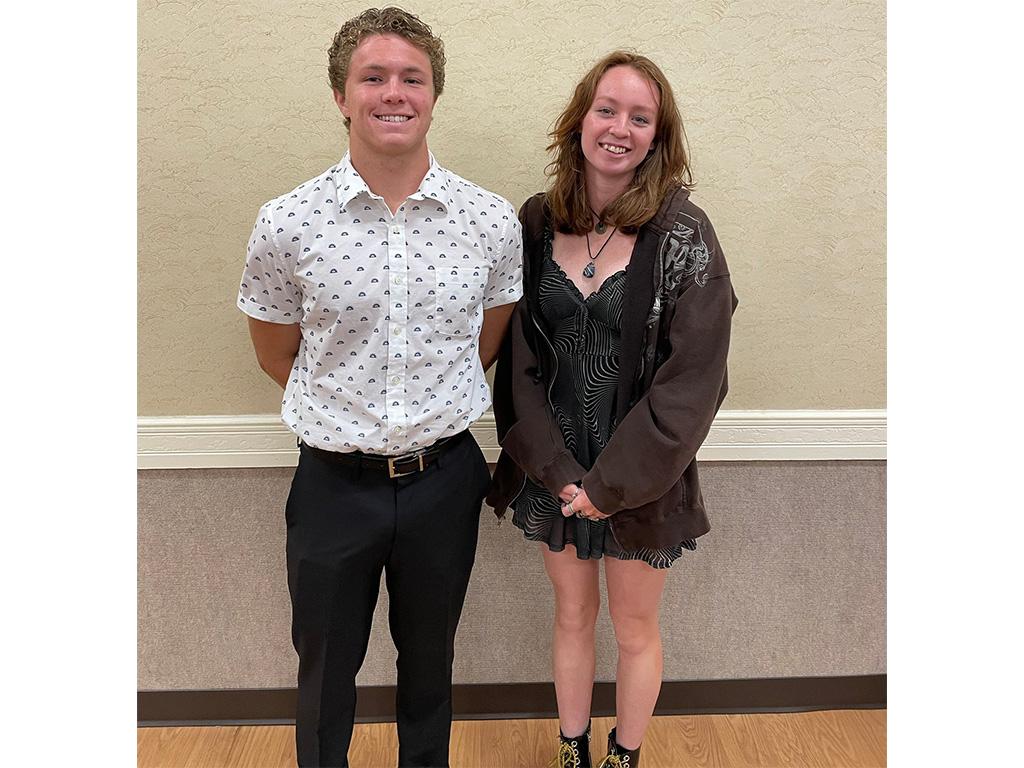 2023 GHS High School Sports Association Scholar Athlete Award Winners Brandon Case and Elizabeth Weeks
As the 102nd Grossmont High School school-year comes to an end, it is an opportunity for us to reflect on some of the wonderful things that happened second semester.
Recognitions
These staff members were selected for their professionalism, their dedication, and their caring:
English teacher and Department Chairman Heidi Schultz, chosen by GHS teachers as their Teacher of the Year.
English teacher Daemein Patterson, selected by GHS students as their Golden Apple Teacher of the Year.
Academic Advisor for 9th and 10th grade, Karin Dann, chosen by the GHS staff as its Classified Employee of the Year.
Math Teacher Kristen LoPrell, selected by the Greater San Diego Math Council as their Teacher of the Year.
Special Education Teacher Kendra Whitt, recipient of the East County SELPA (Special Education Local Plan Area) "Evidence Based Practice Hero" award as an outstanding educator for students with Autism.
Photography and Digital Arts Teacher Carolyn Jungman, selected by the GUHSD as its CTE (California Technical Education) Teacher of the Year.
Bill Woolman, Class of 1962, recognized as the GHS Gold Star Volunteer for his many contributions to GHS.
Newsies
In 1921, GHS students performed in their first play, All of a Sudden Peggy. 102 years later, in March, the department produced the musical Newsies.
Drama teacher Amity Ecker shares, "In March, we performed 6 nights for nearly full houses and had an overwhelmingly positive response to the production. Approximately 60 students were involved in the show.
One of our seniors designed the set, and it was then entirely built and created by our Tech Theatre class.
Students learned new skills such as tap dancing, and we utilized student choreographers to help create the dance pieces. The Dance Department, under the direction of Marta Jiacoletti and the Theatre Department collaborated to create the performance."
Orchestra Visitation by the Grossmont College String Quintet
Karen Childress-Evans, GHS Artistic Director of Orchestras, shares that "The Grossmont College String Quintet visited our advanced orchestra class April 20, 2023, during period 6, thanks to a generous grant from Friends of East County Arts.
The quintet performed the first movement of Eine Kleine Nachtmusik while the advanced strings watched. Then the advanced strings performed Besame Mucho for the quintet.
After that, the students split into coaching groups where the quintet worked with each section of the orchestra (first violins, second violins, violas, celli and bass.) The culmination of the hour was when the College Quintet sat in with the Advanced Strings, and we performed Besame Mucho together."
Grossmont Band Winter Season
Band Director James Villegas celebrates that "The Grossmont Band program has just wrapped up a successful Winter Season featuring our Indoor Percussion Line (Winter Line) and Indoor Color Guard (Winter Guard). The last time Grossmont High School fielded these teams was "way back" in 2019.
A Winter Guard performance is a combination of dance and gymnastics choreographed to selected music, highlighted by spins and high tosses of flags, rifle stocks and sabers. Everything must be carefully synchronized and the movements must tell a story. There are several Southern California competitions; this year's production, Radioactive, took us to 3rd place at the finals held in Orange County.
Similar to Winter Guard is Winter Line, with the major exception that the music is live. With backing from a frontline ensemble of marimbas, vibraphones and auxiliary percussion, performers on bass drums, snare drums and tenor drums (quad toms) perform dance moves and gymnastics while playing the instruments! This year's exciting show, The Idol, took our performers on a competition tour as far north as Fontana!"
Senior Decision Day
According to Counselor Deborah Aguila, "Grossmont High School celebrated Senior Decision Day May 4th with over 260 seniors graduating UC/CSU eligible. These seniors have "gone above and beyond" the minimum graduation requirements.
Whether the students are choosing community college, military, trade school, joining the workforce, or 4 year college, it was a time to celebrate our seniors making BIG decisions for their future.
Many of these students have been accepted to prestigious colleges across the nation. So far, more than 41 students have made their commitment to SDSU and over 35 students accepted to various UCs. This includes 8 students accepted to UCLA. We have graduates attending college in Utah, Colorado, Oregon, Texas, and Westmont, the US Naval Academy, and many more. Many seniors are planning to take advantage of the 2 years of free community college too.
On Senior Decision Day, students received their own personalized graduation poster, a festive lei, a sack lunch, and walked the red carpet for multiple photo opportunities with GUS and friends. The Hiller band marched through the school and performed for the seniors in Theatre Plaza. The event ended with a senior-led flash mob. Sack lunches were donated by our very own Grossmont HS Educational Foundation."
Athletics
Girls Track Team Valley League Champions
Girls Water Polo Valley League Champions for the 3rd year in a row
Dive Team: Sophomore Addyson Clark won the GUHSD League Girls Varsity title; Megan Lyon placed third; Bruce Nordloff placed second in the GUHSD League Boys Varsity competition.
The High School Sports Association GHS Scholar Athlete award winners are Brandon Case and Elizabeth Weeks.
NJROTC Visit the Marine Corp Recruit Depot
Chief Warrant Officer Max Velasquez shares that "50 of our Grossmont High School NJROTC cadets visited the Marine Corps Recruit Depot on March 10, 2023. It was a day filled with pomp & circumstance with the cadets observing an official graduation ceremony of over 200 newly enlisted Marines, as well as going on a tour of the Marine Corp Museum, observing displays and listening to lectures covering the history of the Marines from the 19th century to present day.
We had lunch in the base's chow hall and finished our visit with a question and answer session hosted by our tour guides and attended by the base commander. The cadets loved the trip and we hope to do it again next year."
These wonderful experiences and achievements the semester are only some of the reasons that the students celebrate their motto: "It's Great to Be Young and a Foothiller!".
For information about Foothiller history, email Connie and Lynn at This email address is being protected from spambots. You need JavaScript enabled to view it. or leave a message at 619-668-6140. Learn more about Foothillers, past and present, on our website at foothillermuseum.com and our Facebook page at Grossmont High School Museum and Alumni.