March 2023 - GHS Clubs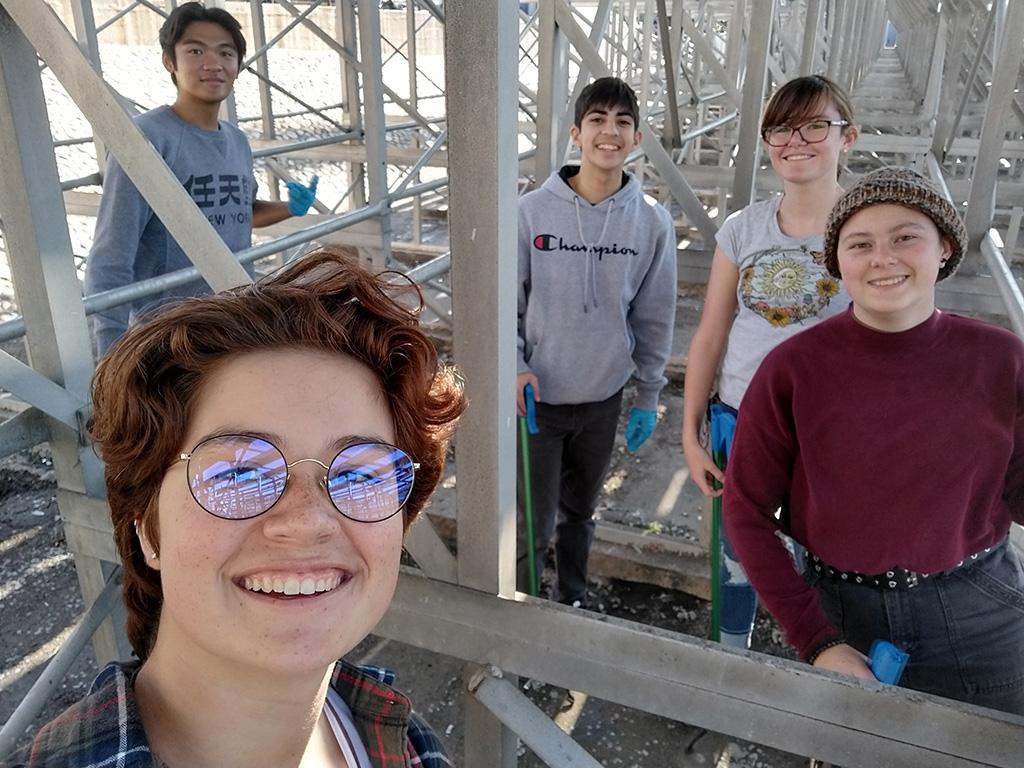 2023 Green Club Campus Cleanup Sophia Martinez, Nathaniel Tan, Thomas Iannacone, Ava Curtis, Sydney Luhnow
From its beginnings, Foothillers found companionship and new interests through its school clubs. Quickly multiplying over the decades, the amazing diversity of GHS's clubs provide students friendships and support as well as opportunities to reinforce and intensify learning.
Alumnus Patty Bender, Class of 1953, recalls being a member of the Moonsweepers, a club for girls; its purpose was to serve the community and the school. "When I reflect on Moonsweepers, I realize how like a sorority it was. You had to be asked to join and voted on! We did social activities and service projects."
In the 1954 yearbook, there were 33 extracurricular clubs on campus including the Math Club, the FFA (Future Farmers of America), the GAA (the Girls Athletic Association), the Lettermans' Club, and the Artizans (art loving Foothillers).
Today's clubs number 40; many have a storied history and many are recent creations.
Interact Club
Retired principal Bill Ashman has been the liaison for the club for several years. After a four year absence, this year the La Mesa Rotary Club reinstated the Interact Club, which is a community and international Service organization.
Bill shared some of their first semester activities: "The students were involved in several community projects. They started the year with a fundraiser selling cookies and popcorn balls at a football game; the funds were used on the school campus. Northmont Elementary School had a Halloween carnival, where the Interact students assisted helping the younger children. With several Rotarians, in October, the students painted, trimmed shrubbery, and removed trash at Sunset Park in La Mesa.
Several of the students are involved with Hands on San Diego. At the holidays, they helped local organizations collect, sort and distribute toys and food to share with families for the holidays."
This semester, with English teacher Todd Bell as the advisor, the students made 40 Valentine gift bags for the residents at Montera Senior Living in La Mesa, which included pens, tablets, safety pins, calendars, band aids, cookies, candy and more. The students met with the residents on Saturday, February 11th."
Crochet Club
The purpose of this club is for students to knit and crochet blankets for children in need such as shelters and children at hospitals.
According to advisor and science teacher Stephanie Laberge-Luhnow, "Our club is in the early stages. Many members are still learning how to knit or crochet. We do have squares, but no blankets yet. But squares and lots of crocheted or knitted rows are keys to learning."
Comfort Club
This club's purpose is to become a safe place on campus for students to support each other, give advice, share, and learn positive affirmations.
Advisor and English teacher Laurie Jensen states that this year, "They meet every Monday in my room at lunch. The group talks, eats their lunches, completes puzzles, listens to music, and works on homework." Laurie's classroom provides a welcoming refuge for the club members.
Peer Listening
This club traces its roots to 1993 with the creation of the Human Relations/Peer Mediation Club. Two members of the counseling department serve as advisors for this club, Counselor Laura Dawson and Guidance Information Specialist Krista Santoro. While the club's name has changed over the past 30 years, its purpose has not.
Krista shares that "Peer Listening serves as a program, class, and club at Grossmont High School. Accepted juniors undergo a year-long training learning low-level psychology skills and protocols, culminating in a three day comprehensive camp to practice and hone these skills.
Once they are seniors, they have earned the title of Peer Listener; then, it is their job to provide a strong, extensive support system for all students. Peer Listeners conduct "listenings", one on one, which allow students to talk through their challenging situations. They also conduct mediations which grant multiple students the opportunity to resolve disputes.
Outside of the everyday services the peer listeners provide, they also lead and orchestrate "Where is The Love Week" and Mental Health Awareness Month. Both events strongly promote kindness and the acceptance of supporting mental health throughout campus.
In addition, the students give tours to all new students, and they participate in Freshman Showcase, Freshman Orientation, Club Expo, Homecoming Carnival, and more. It is evident that these students use this Peer Listening platform to try to make a positive difference in their GHS community."
Green Club
Another club that can trace its origins to the 1990s is the Green Club. In the 1990s, Club Green was created to create an awareness of the importance of recycling and caring for our environment. Its first year, a labor intensive recycling program was created which involved the club members putting the recycling bins out every morning and returning them to the storage area every afternoon.
Today, Science teacher and club advisor Marisa Alvarado states, "This year's Green Club officers are President Sophia Martinez, Vice President Maxwell Short, and Secretary/Treasurer Ava Curtis.
They all do a great job every week of presenting different topics to educate our members on different issues such as invasive species, endemic species, recycling, reducing waste during the holidays, climate change, air pollution, etc.
They've held/participated in a few clean-ups this year including one on campus, one in Casa De Oro, and the CA Coastal Clean-Up day in Mission Beach. Our club members also just walked in the Lung Force Walk to help raise awareness of lung cancer.
This year's club strives to continue the tradition of learning more about the environment and their part in it while spreading awareness to others."
Grossmont's campus clubs create friendships, reinforce learning, and provide opportunities sometimes not available in class. In fact, there are so many clubs this year that our next column will highlight more of the wonderful clubs advised by teachers and staff members and led by students at Grossmont. More to come…
For information about Foothiller history and the GHS Museum, email us at This email address is being protected from spambots. You need JavaScript enabled to view it. or leave a message at 619-668-6140. Learn more about Foothillers, past and present, on our website at foothillermuseum.com and our Facebook page at Grossmont High School Museum and Alumni.