Frank Zappa, Did You Know?
55 Years Ago, Frank First Performed in San Diego
June 1, 1968, Frank Zappa and the Mothers of Invention-in their first local appearance performed at Convention Hall. SDUT
69 Years ago, Frank attended GHS for his freshman year, 1954-1955.
During that year, he revealed the creativity that would be a distinctive part of his persona, winning a state wide poster contest, which had 399 entries.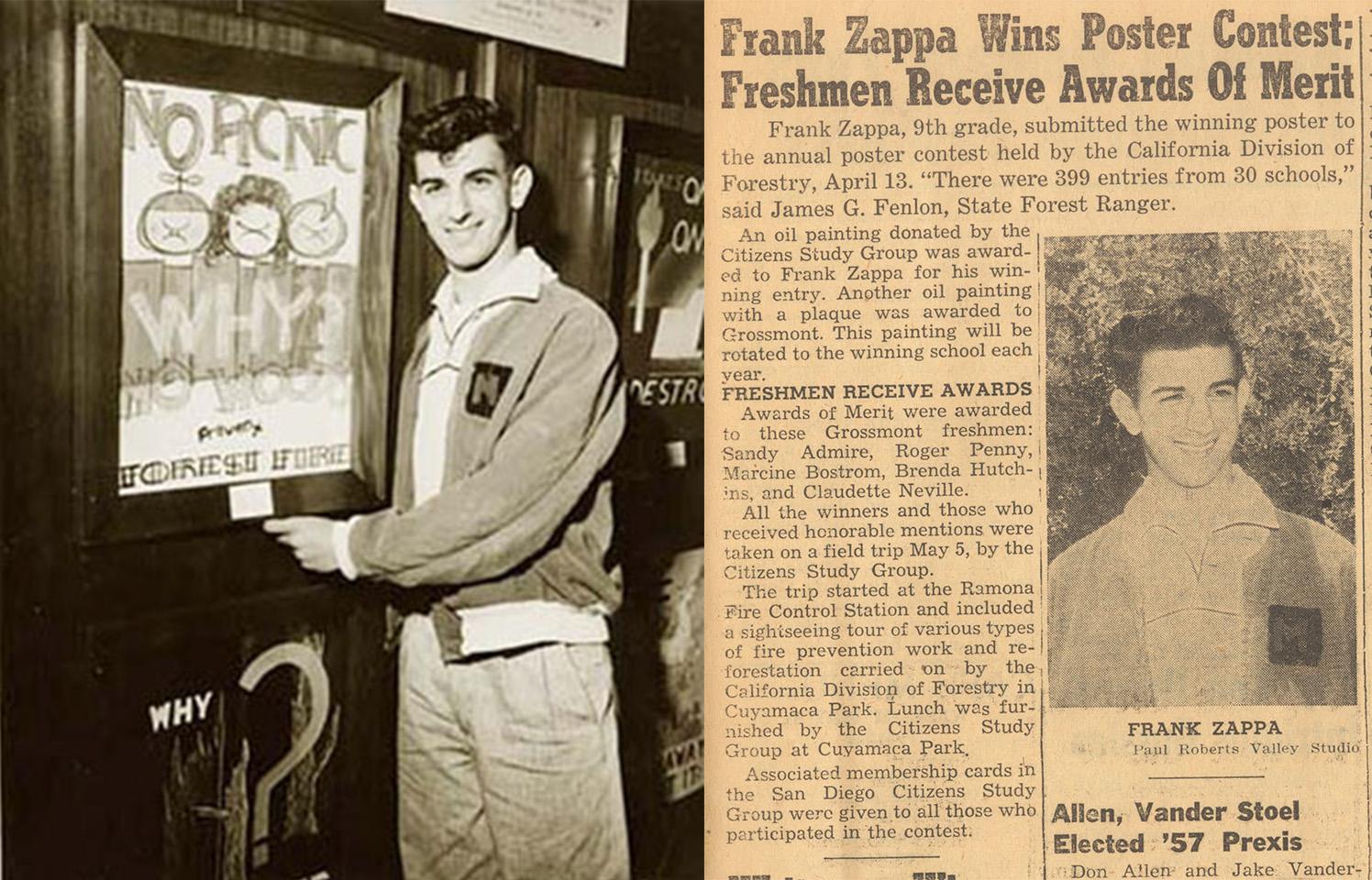 Frank Zappa's reflections on San Diego
SD Union Tribune November 20, 2020
Zappa's Pivotal San Diego Years
Frank Zappa lived in San Diego for just a few years in the mid-1950s, when he was a freshman at Grossmont High and a sophomore at Mission Bay High, but it was a pivotal time in his musical evolution.
He played in his first band here, as the drummer in The Ramblers and made his public performance debut at Uptown Hall in Hillcrest. He bought his first record player at Valley Music in El Cajon and was a regular at Arcade Records in the Gaslamp Quarter.
Crucially, Zappa experienced his first epiphany with contemporary classical music after he went bought the album "The Complete Works of Edgar Varèse, Volume I" at Alan's Music Center in La Mesa. He credited the album's impact for inspiring him to become a composer himself.
Zappa fondly recalled his time here during a 1984 Union-Tribune interview. Here are two excerpts from that article.
School days: "The music teacher at Grossmont was a guy named Benton Minor, who signed all his passes 'B. Minor.' Robert Kavelman was my music teacher at Mission Bay. They were my teachers in orchestra and marching band… I'd like to tip my hat to them. Kavelman was the first to introduce me to 12-tone music."
San Diego: "I loved San Diego. I really missed it when I moved away, but now it's turned into something completely different. If kids going to school there now had any idea just what kind of a colorful and interesting musical life San Diego had back in the mid-'50s, they'd be extremely disappointed that it doesn't exist there anymore. Each district in town had really hot bands, and it was very competitive."
Frank Zappa, "No Picnic", 1955
Frank Zappa, 9th grade, submitted the winning poster to the annual poster contest held by the California Division of Forestry, April 13. "There were 399 entries from 30 schools," said James G. Fenlon, State Forest Ranger."