Tommy Rutherford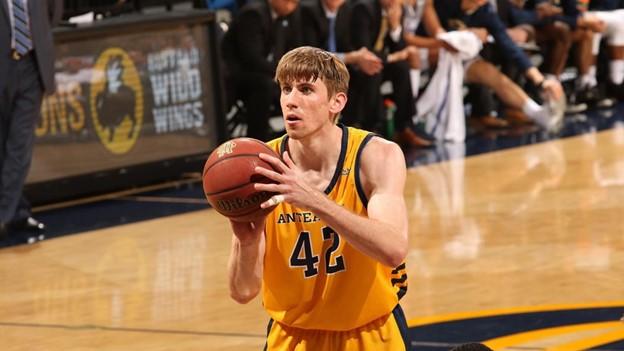 By Barry Faulkner for ucirvinesports.com
Engineering for structural integrity requires the careful consideration of load and the successful calculation and execution of accommodation for the weight or source of pressure that can cause buildings to fail.
For UC Irvine engineering student Tommy Rutherford, however, the concept of load is far more encompassing.
For Rutherford, also a senior starter on the Anteaters' Big West Conference champion men's basketball team, the weight or source of pressure is a fulcrum upon which teeters the balance of his student-athlete existence.
"My typical day during the season is classes all morning, then weights and basketball practice, then going home and going straight to the books to do homework until I go to sleep," said Rutherford, a 6-foot-8 forward who has helped UCI engineer Big West regular-season titles in three of his four seasons. "It's a lot."
Rutherford, who earned first-team All-Big West honors as a sophomore and averaged 10.1 points, 4.3 rebounds and shot 68.5% from the field in the 2019-20 regular-season, has earned the admiration of his teammates, coaches, professors and fellow students for his monumental quest for excellence on the court and in the classroom.
"I have never had a guy who was such a hard worker, and I don't just mean in basketball," said UCI coach Russell Turner. "I mean in everything that he does; his academics and obviously his basketball. That guy's intent to do the right thing is as strong as any player I have ever coached, so to see the kind of success he has had himself, and all the different ways he has impacted this team and the success we have generated in his time here has been a lot of fun. Nobody has been more responsible for all that success than Tommy."
After averaging 29 points and 20 rebounds as a senior at Grossmont High in El Cajon, Rutherford spurned a strong recruiting push from Harvard to accept a scholarship from UCI.
From the outset, he was warned that majoring in engineering would be an imposing task.
"I heard skepticism from friends, family and coaches when I tried to tell them that I wanted to do both [basketball and engineering]," said Rutherford, 23, whose older sister Rose is a civil engineer. "They said 'Are you sure? That is going to be a heck of a schedule.'
"But for me, what outweighed the worry of the workload," Rutherford said, "is how meaningful it would be to not only pursue a career in basketball for as long as possible, but afterward, to have a career in something I felt was meaningful and interesting."
The workload has prompted sacrifices, said Rutherford, who noted he regularly wonders how different his UCI experience would be if his major was less-demanding, or he didn't play basketball.
"It's a lot of classes you have to take for engineering and usually those classes also have labs and discussions in order to make sure you are staying on track and getting the help you need," Rutherford said. "It had definitely challenged my work ethic. It takes dedication and sacrificing your time. You definitely have to plan your schedule to meet all the demands of the day."
"My family will say, 'It sounds like you are working all the time. Maybe you should schedule a 15- or 20-minute break to watch TV or do something fun in between,' " Rutherford said. "It is tough to go-go-go all the time and it is important to have leisure time, because that is when you decompress. Sometimes when you do your best thinking is when you take some time to do something else. I wouldn't say [school and basketball are] all-consuming. I have tried to make sure that I enjoy other aspects of college, like meeting new people, and I have shared amazing experiences with my teammates on and off the court. A lot of my time is consumed by [basketball and academics], but it's important to find that balance."
Among the most fun Rutherford has had at UCI came during the 'Eaters unprecedented NCAA Tournament run his junior season. The program, making its second appearance in the Big Dance, earned its first NCAA Tournament win by defeating Kansas State in the first round, before being eliminated by Oregon to finish 31-6.
"It was an experience of a lifetime," Rutherford said of last season's success. "I had dreamed of playing in the NCAA Tournament ever since watching my first one when I was 5. My whole experience with college basketball has been one that I will never forget. I love it so much. All the hardships and friendships will be things I will always remember."