Carol Lockwood, Retired GHS Art Teacher, Honored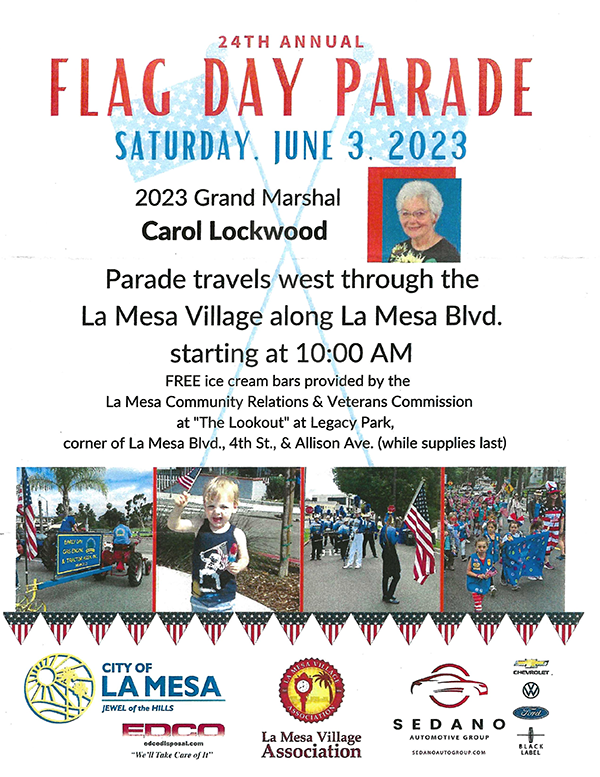 Carol has been selected as the Grand Marshall of the 24th Annual Flag Day Parade in La Mesa.
Carol is being honored for 53 years of service with the GUHS District: 30 years as an Art Teacher at GHS from 1966-1996 and 23 years at Foothills Adult School, serving as a ceramics teacher and in other roles as well.
In addition, for years, Carol has been active with the La Mesa History Center as well as in the La Mesa Arts community.
Congratulations, Carol!
La Mesa salutes "Old Glory" with a fun, family-friendly parade
La Mesa, CA – Join the City of La Mesa at the annual Flag Day Parade on Saturday, June 3. The parade begins at 10:00 a.m., at the intersection of Memorial Dr, University Avenue and La Mesa Blvd. and heads west through the La Mesa Village to Acacia Avenue. The Grossmont High School Royal Blue Regiment and the Navy Junior ROTC Color Guard will lead the parade.
This year's Grand Marshal is Carol Lockwood who was chosen to be honored based on her more than 50 years of services as an educator with the Grossmont Unified School District and involvement in numerous city projects, committees and programs.