Coach Jack Mashin, GHS Coach and Teacher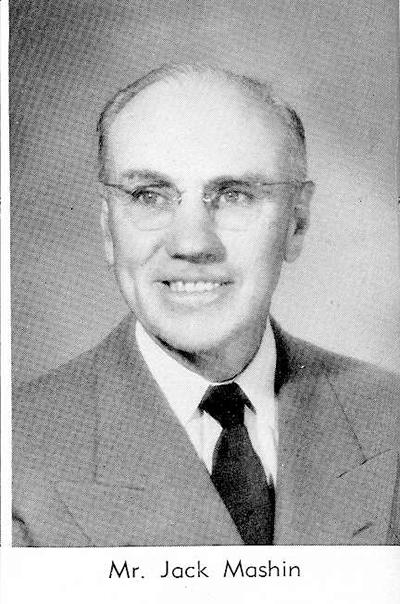 Beloved GHS Coach and P.E. Teacher 1923-1960 "The Fox of the Foothills"
While Jack Mashin was a legendary coach, it was his philosophy of education and of life that endeared him to all who knew him.
In the 1925 El Recuerdo, Coach Mashin reveals his lifelong philosophy of coaching: "The greatest honors that athletes can bestow upon their institution are not in victories alone but in how modest they were in victory and how honorably and valiantly they fought in defeat." During his years at Grossmont, his athletes won 7 league football championships, 34 league and tournament basketball championships, 3 league baseball championships, and 86 track and field event titles. Jack was admired by all and considered the Dean of Coaches in SD County. Not surprisingly, in 1966, Coach Mashin was inducted in the California Coaches Hall of Fame.
Yet Jack valued each student's achievements: the 1954 El Recuerdo's dedication to him acknowledges that "his greatest contribution to Grossmont is his natural ability to reach the average student, fostering in each one an awareness of self-confidence and strength." He urged all students to be "second to none".
Both Jack and his wife Virginia were passionate about the value of education. Upon their deaths, they left more than $2 million dollars to philanthropic causes, most to endow college scholarships.