Bill Woolman, Class of 1962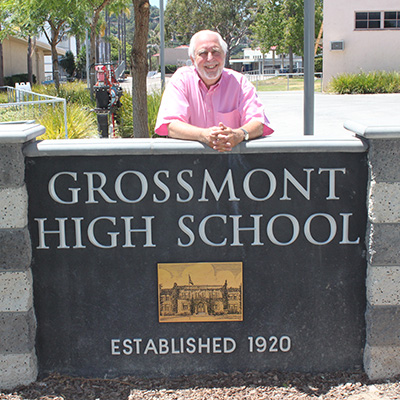 Soon after the 2008 opening of the GHS Museum, Bill Woolman visited the Museum. From that moment, Bill has worked to improve Grossmont High School. When his class celebrated their 50th Anniversary in 2012, he encouraged them to donate their reunion proceeds to the Museum to purchase a laptop. Then, Bill personally purchased a printer, paper, and toner as well, the kind of generosity that typifies him.
Bill's donations are numerous. He became one of the first Foothiller Founders, purchasing two tiles to support our GHS Endowment Fund. His yearly donations have allowed us to have the GHS Alumni website, which has become an invaluable resource for us to communicate with alumni. Some of Bill's other donations have enabled us to restore the transplanted historic ivy and the 1960 roses, to fund a bronze plaque dedicating the Discus Field to Marlin Baer, to create the Spirit Displays in the New Gym, and to restore the Big G on the Hill. In 2012, Bill donated the funds to create a monument in front of the Humanities Building celebrating Grossmont, proclaiming "Foothillers Forever", with plans for another monument at the front of the campus.
Bill Woolman has endeared himself to students, staff, community, and alumni by his desire to "make a difference" at Grossmont High School. He has enriched the culture of the school in countless ways and has become a dear friend to all Foothillers.