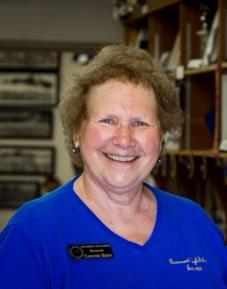 After graduating, Connie Baer returned to join her father inteaching at Grossmont in the 1970's, quickly developing a strongreputation for skill, professionalism, and dedication.
Connie taught English at Grossmont for most of her overthirty years in the historic "Old Main" building, providing aleadership that has left an indelible mark on thousands ofstudents and teachers.
Connie continues to be a positive force on Grossmont's campus, developing and directing the school's museum withher sister and fellow GHS graduate Lynn Baer.