Grossmont High School Museum - Honoring the Past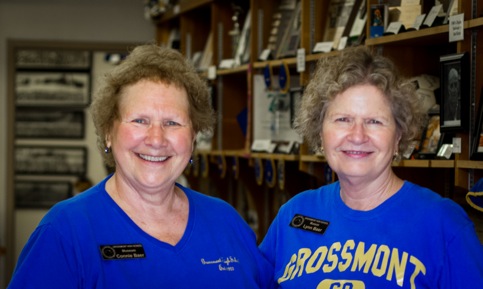 In October 2008, a dream was realized with the Grand Opening of the GHS Museum on the Grossmont campus. Prior to its opening, Connie Baer, Class of 1965, and Lynn Baer, Class of 1969, spent 18 months, organizing and creating the Museum displays.
During the school year, the ninth grade English classes visit the Museum as part of our efforts to share our wonderful 95-year old history with them. We are open each Wednesday at lunch for the students to explore our amazing traditions.
The highlight of the 2015-2016 was our 95th Anniversary Celebration! Read more about it HERE, and browse our 95th Anniversary Program HERE. Foothillers have much to celebrate!
Open to the public the first Wednesday of each month and by appointment on other Wednesdays, the Museum welcomes alumni and the community to share their memories of Grossmont High, as we discover all that we have in common.
The Museum operates solely on donations, which are used to create the Museum displays, to preserve our memorabilia, and to celebrate Grossmont's history. Listed below are some of our current projects and fundraising needs.
To make a tax-deductible financial donation, please use the Pay Pal button on the right. if you would like to sponsor a certain project, please email us at This email address is being protected from spambots. You need JavaScript enabled to view it.. You may also write a check, payable to the GHS Educational Foundation, and mail it to GHS Museum, P.O. Box 1043,La Mesa, CA 91944-1043: in the check memo, please specify your sponsorship of a certain project or specify Museum General Fund.